Thumbprint Hyacinth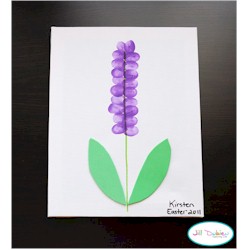 Excited that Spring is just around the corner? This Thumbprint Hyacinth can bloom any time of year and the young crafters will love showing off their "handi" work.
Supplies
canvas or paper
purple paint - or you could use pink, blue, etc.
green marker
green craft foam
scissors
glue
a thumb
Instructions
1. using your green marker, draw a straight line in the middle of your paper or canvas - this will be the hyacinths stem
2. dip your child\'s thumb in the paint and have them stamp their thumb up one side and down the other of the green line, only doing this on the top half
3. cut two leaves out of your green craft foam and glue them on the bottom of the stem.
Contributor

Meet The Dubiens
I love crafting with my kiddos, creating super fun lunches for them in the kitchen and taking pictures of them. My blog is a place for me to share all these things. I hope you enjoy!