Thanksgiving Woven Paper Fruit Basket Card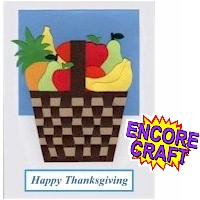 This Thanksgiving Woven Paper Fruit Basket Card is a great kids project whether you are celebrating American or Canadian Thanksgiving. It also makes a delightful Birthday card or special occasion card.
Supplies
Card Stock (for the serious cardmaker) or construction paper:
White
Dark Blue
Light Blue
Red
Dark Orange
Yellow
Light Green
Dark Green
Dark Brown
Light Brown
Glue
Scissors (or Craft Knife and cutting board for serious cardmakers)
Instructions
To make this card, start with a 5 inch by 6.5 inch blank white greeting card or fold your own from a piece of 10 inch by 6.5 inch card stock. Cut a piece of blue card stock that is 4 inches wide by 3.5 inches high and glue that to the card front as shown in the picture above of the finished card. You can also go ahead and glue one of the greetings in place if you'd like.
Now that the card base is done let's start on the basket and the fruit. Cut the fruit shapes from card stock. The dotted lines on the pineapple show where to cut the body of the fruit so you have room to attach it to the leaves. Also cut the stems extra long so you have room to attach them to the fruit with a small dab of glue. In the picture you can see the front and back of the apples and pears. Our oranges look red in the picture but the paper is actually dark orange. Set these aside while the glue dries.
Cut the basket from dark brown card stock, or the color of your choice, and also cut along the wavy lines using a craft knife and cutting board. The cuts don't have to be exact. This will act as your paper weaving loom.
You will also need to cut out 6 strips of light brown card stock that are 1/4 inch wide by 3 1/2 inches long. Just weave them in and out between the layers of paper that were created when you made the cuts in the step above.
Continue adding "weft" strips as shown. Alternate the "warp" that you start with each time you add a new strip. On the back of the basket, push the weft strips up towards the top of the basket as far as you can without damaging the card stock.
Continue adding strips continually pushing them up from the back so they are tightly in place. You should have room to add 6 strips(1/4 inch wide). Make extra room after the 5th strip then after you have added the last strip, space them evenly apart, it doesn't have to be exact.
Don't worry about making a mistake because the strips are easy to remove, just pull them back out and start again. If you end up needing more or less than 6 strips, that's fine too, just space out of the number of strips you have used.
To make sure they stay in place you may want to glue down the ends of each weft strip. Next just trim the excess strips.
Arrange the fruit and the basket on your card and glue everything in place. We found it easier to first glue down just the bottom half of the basket while we arranged the fruit. We finished gluing down the basket after all the fruit was arranged. Do not use fast drying glue when placing the fruit because you will probably want to be able move them around a little as you are creating the fruit arrangement.
The paper weaving basket used for this project is fun to make, and quick after you have made a couple. Try making them in different colors and filling them with whatever you'd like. Enjoy this project idea!
Click on the printables for patterns and greetings.
Patterns, Templates and Printables
Click on a pattern to open it in a new window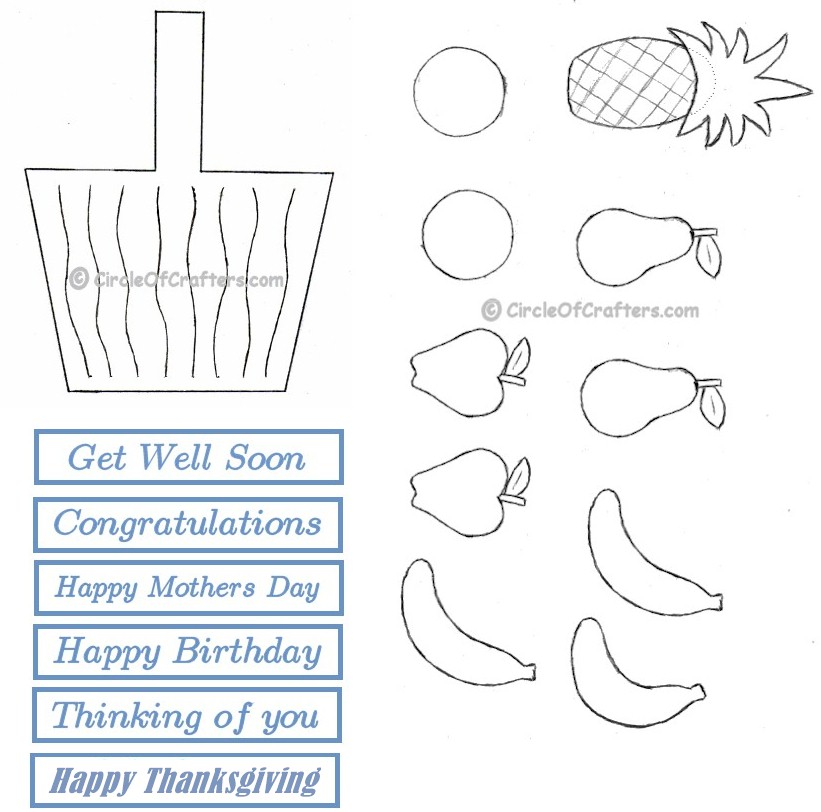 Other Images
Click on an image to open it in a new window
Contributor

Circle of Crafters
Circle of Crafters is a place where crafters can share their crafting knowledge with fellow crafters worldwide. Within our pages you can find crafting tips and ideas, free craft patterns and printable templates, and much more.