Thanksgiving Play Props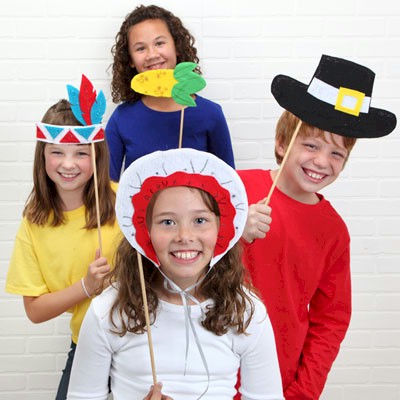 These Thanksgiving Play Props are a great project for the classroom or the family gathering at Thanksgiving. Kids will have fun creating a Thanksgiving play or posing for the camera with their props.
Supplies
Tulip® Fabric Markers® 6 pack
Tulip® Fashion Glitter®
Black Fine Jewel
Gold Fine
Red Fine Jewel
Turquoise Jewel
Aleene's® Original Tacky Glue®
Tulip® Cordless Heat Setting Tool
Tulip® Glam-It-Up!™ Iron-On Crystals™ Clear
Tulip® Fashion Glitter Bond™ 4oz
Hot glue gun and glue sticks
Cardboard
Ribbon
Scissors
Craft knife
Sticks
Pencil
Paintbrush
Chalk
Felt (white, red, yellow, black, green, turquoise)
Instructions
1. Print out patterns and cut out. Trace each onto cardboard and cut out.
2. Use chalk to trace patterns onto felt, using the photo to reference corresponding felt colors with patterns. Cut felt at least ¼" larger than template and glue to cardboard cutouts with Original Tacky Glue.
3. Draw in details on the corn and bonnet with the black Fabric Marker as shown.
4. Embellish props with coordinating colors of Fashion Glitter, using Glitter Bond to adhere. Let dry.
5. Add crystals where desired and set in place with Cordless Heat Setting Tool.
6. Hot glue sticks to back of props. Let dry, then cut small swatches of felt and use Original Tacky Glue to glue over exposed portions of sticks on backside of props. Let dry.
Patterns, Templates and Printables
Click on a pattern to open it in a new window