Thanksgiving Chalkboard Craft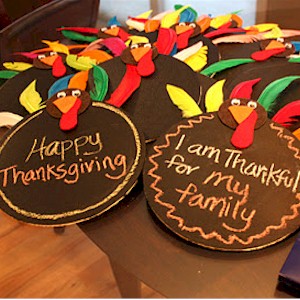 Thanksgiving is a time for family and friends to gather around and be reminded of all the blessings that we enjoy every day. These fun chalkboards give the kids an opportunity to count their blessings.
Supplies
6.5" Plywood circles or you could cut circles from foam core or cardboard
1 Piece of brown stiffened felt
1 Piece of orange and red felt
Chalkboard paint
Wiggle eyes
Multi colored goose feathers
Glue Gun
Instructions
Paint the plywood circles with 2-3 coats of chalkboard paint. I let the paint dry overnight.
Cut little circles out of the brown stiffened felt. Create face using orange and red felt and googly eyes. I used a hot glue gun to glue everything together.
Glue feathers on the backside. I used approx. 6 feathers for each turkey.
Contributor

Repeat Crafter Me
Sarah is a stay-at-home mom to her 1 and 3-year-old boys. She is also an artist and graphic designer that loves crafting with her kids, taking on DIY projects, crocheting and attempting to cook with the help of her Crock Pot.