Teachers Hall Pass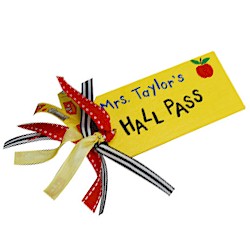 Print This Craft
Start the new school year off with this practical gift (and kid's summer project), a hall pass made special because it was made with care.
Supplies
Americana Gloss Enamels
DAG36 - True Blue
DAG67 - Black
DAG227 - Bright Yellow
DAG230 - Festive Green
DAG265 - Tuscan Red
Americana Brushes
DBL1000-B - Liner #0
DBR2004-B - Round #4
DBF2575-B - Flat 3/4"
Foam plate
Lo-temp glue gun
Hinged split metal ring
Six 8" lengths of 1/4" - 1/2" coordinating ribbons
Flame lighter
Instructions
Preparation: Remove all labels or tags from surfaces before painting.
1. Use flat brush and Bright Yellow to paint wood tag; let dry.

2. Use liner brush and True Blue to paint teacher's name on tag, beginning at upper left.

3. Use liner brush and Black to paint "HALL PASS" on lower area of tag.

4. Use round brush and Tuscan Red to paint apple in upper right area; let dry.

5. Use liner brush and Black to paint apple stem.

6. Use liner brush and Festive Green to paint leaves on stem; let dry.

7. Attach metal ring through hole of tag and close.

8. Seal ends of ribbon to prevent raveling by carefully singeing ends with lighter. Tie ribbon lengths around metal ring.
Helpful Hint
Adults should seal ribbon edges (see step 8) for children.
Contributor
Cucicucicoo: Eco Sewing and Crafting
Cucicucicoo: Eco Sewing & Crafting proposes all sorts of DIY projects to creative minds of all ages who love to make things without harming the environment. Repurposing materials is a great way to save the Earth while expressing yourself though all types of creative means! Come check out the tutorials for kids and adults at Cucicucicoo.com!