Tasty Halloween Popcorn Skull Craft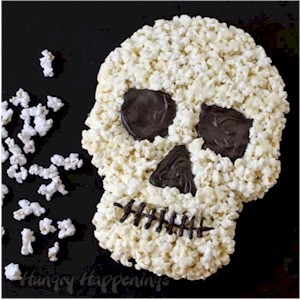 Scare up some yummy Popcorn Skulls for your Halloween buffet. This fun delight will make the kids beg for more treats on All Hallows Eve.
Supplies
1/3 Cup Popcorn Kernels
Plastic Skull Mold
16 oz. Melted White Chocolate
4 oz Melted Dark Chocolate
Large Mixing Bowl
Disposable Piping Bag or Zip Top Bag
Spatula
Spoon
Instructions
If you don't have an air popper, then place your kernels in a plain brown lunch bag, fold the top of the bag over a few times, heat in microwave on high power for 2-3 minutes until you hear the popping of the kernels slow to one to two pops per second. Times will vary because every microwave heats differently.
However you pop your popcorn, you'll want to place the popped kernels in a very large mixing bowl and discard any unpopped kernels. I shake my bowl, then scoop hand fulls of popcorn out into another large mixing bowl. Then all the unpopped kernels and really small pieces of popcorn end up at the bottom of the bowl and are thrown away.
You can also use a Kernel Katcher Popcorn Sifting Bowl. I've always wanted a sifter that does this and just found these on Amazon. I just might have to add one to my kitchen collection. If you have one, I'd love to hear how well it works.
Pour melted and tempered white chocolate or melted white confectionery coating over popcorn. Use a large spatula or spoon to gently fold the popcorn and chocolate just until the popcorn is covered. If you stir for too long, the chocolate will begin to harden and you will end up with spikes of chocolate on your popcorn.
Quickly spoon the white chocolate popcorn into the skull mold, pressing down, making sure the top is level. Refrigerate if using white chocolate, freeze if using confectionery coating, until set, about 15 minutes.
To un-mold, hold your hand over the popcorn, turn mold upside down and set just above your work surface, press gently on mold, allow popcorn skull to fall out. If it wont release from mold, it may need a few more minutes of chilling time.
Pour melted and tempered dark chocolate or melted dark cocoa candy melts into a disposable pastry bag or zip top bag. Snip off one tip. Pipe on eyes, nose and mouth. Refrigerate for 7-10 minutes until set.
Serve skull within two days or store it in a large metal popcorn tin for up to 3 weeks.
Contributor

Hungry Happenings
Beth Jackson Klosterboer is the author of Hungry Halloween featuring Movie Monster Munchies, Bewitched Buffet, and Dead Man\'s Diner. She has been a chocolatier and party planner for over 20 years and creates edible crafts which she features on her her blogs, http:www.HungryHappenings.com and http://www.HungryHalloween.com.