Styrofoam Peanut Snowflake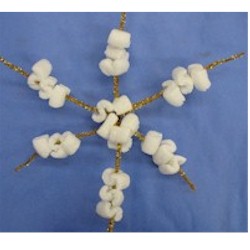 Emily Lingenfelter, an Art Teacher at Mount Wolf Elementary School in Mount Wolf Pennsylvania, sent us this cute snowflake project that she does with her class. They are our latest contest winners. 
Supplies
Styrofoam peanuts
Glitter pipe cleaners
Creative hands
Instructions
1. Gather three pipe-cleaners and twist them together in the center

2. Separate the pipe-cleaners until they it looks like a snowflake shape

3. Hold onto the very end of the pipe-cleaner and push on the Styrofoam peanuts
4. Depending on how much space you leave between the peanuts can allow you to make  lots of different designs

5. You can make patterns too!

6. Hang in a special place for all to admire.

Contributor

FreeKidsCrafts Contest Winner
IT'S A WINNER! Take a look at what one of our talented viewers submitted to share with you. This craft was selected as one of this month's winners to received $50 in craft supplies. Click here to find out how you can enter your original creation for our judges consideration.