Styrofoam Cup Easter Bunny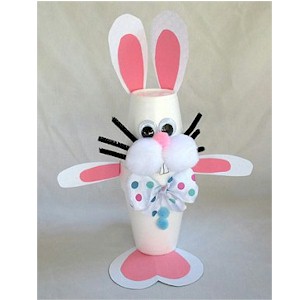 The kids will love making a Styrofoam Cup Easter Bunny to decorate your Easter table. The supplies for this craft are readily available and make a great craft project to do with the kids.
Trivia; The bunny as an Easter symbol seems to have it's origins in Germany, where it was first mentioned in German writings in the 1500s. The first edible Easter bunnies were made in Germany during the early 1800s. These were made of pastry and sugar.
Supplies
2 white styrofoam cups
White and pink paper or construction paper
3 cotton balls or white pom poms
1 small pink or black pom pom
2 small light blue pom poms
2 large wiggle eyes
1 black chenille stick
Scissors
White craft glue or hot glue gun
Note: If using a hot glue gun, make sure it is in the hands of a responsible adult.
Instructions
Note: Before starting on your Styrofoam Cup Easter Bunny, to add some weight to this craft, you can fill one of the styrofoam cups halfway with sand or add a handful of pennies. This step is not a necessary one, it is optional.
Glue the tops of the 2 styrofoam cups together. You can use white craft glue for this step, but if you do you will need sufficient drying time. Otherwise, for quick assembly, use hot glue.
From white paper, cut out a heart shape, about 4" x 4". From pink paper, cut out heart shape, a little smaller than the white, about 3.5" x 3.5". Glue the pink heart on top of the white heart, then glue to the bottom of one of the styrofoam cups, these are your feet.
Cut out 2 tear drop shapes from white paper (approximately 4.5"), and two smaller tear drop shapes from pink paper (approximately 3.5"). Glue the pink tear drop shapes to the white tear drop shapes, these are your ears. Glue to the top of your styrofoam cups, just at the back.
Make the arms by cutting out 2 round cornered rectangles from white paper, and a little smaller of the same shape from the pink paper. These should be approximately 3" and 2" respectively. Like with the feet and ears, glue the pink to the white. Bend the short ends of the arms about 1/2" in, glue the folded end to the side of the bunny, where the cups connect.
Glue a white pom pom or cotton ball to the back for the tail.
Glue 2 large wiggle eyes to the front of the cup in the head area. Glue 2 white pom poms or cotton balls (you can also use pink pom poms) on just below the eyes for the cheeks. Glue a small pink pom pom in between and above the cheeks for the nose (if using pink cheeks, use a black nose).
Cut the black chenille stick in half. Cut both halves into three sections each, you should have six small pieces. Glue three on each side, behind the cheeks as whiskers.
Optional Steps: Older kids may enjoy adding a few details as we have. To add a bowtie, tie a piece of colorful ribbon into a bow and glue just under cheeks. To add buck teeth, draw teeth onto a scrap of white paper, cut out and glue on. You can also add buttons by using small pom poms or real buttons.
Images from other crafters
Contributor

Crafts By Amanda
Amanda Formaro is the crafty, entrepreneurial mother of four children. She loves to bake, cook and make crafts. She is the craft expert for FamilyCorner.com and Kaboose.com. You can see her crafty creations on http://craftsbyamanda.com" Amanda's Crafts by Amanda and her delicious recipes on http://www.amandascookin.com/ Amanda's Cookin'.