Spring Tulip Bouquet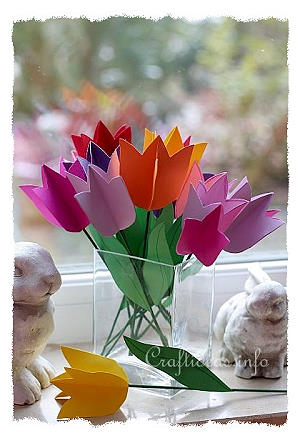 This pretty Spring Tulip Bouquet will make a colorful gift to give to family or friends or you can make it to bring cheer into your own room.
Supplies
Heavy quality construction paper (about 270 g / m² in weight) in all sorts of tulip colors plus green for the leaves
Wooden skewers
Green acrylic paint
Paint brush
Hot glue gun
Craft glue
Green felt tip marker
Stylus or the flat side of a dull knife
Bone folder or the flat side of a dull knife
Instructions
1. Print out and trace the template onto a piece of sturdy cardboard such as a cereal box. Crease the line down the middle of the tulip template so it can be folded in half.
2. Cut out 4 tulips and 1 leaf for each tulip you wish to make.
3. You will need a soft mat, a bone folder and a stylus. If you do not have these, substitute the back of a mouse pad for the soft mat, the flat side of a dull kitchen knife to replace the stylus and bone folder.
4. Take the folded tulip template and use it with the stylus to crease down the center of each tulip piece you cut out.
5. So that it looks the picture in the tutorial.
6. Make the edge flat and crisp with a bone folder or the substitution of one.
7. Glue two tulip sides together. Then glue the other two tulip halves the same way.
8. If your edges do not perfectly match, that is no problem. Just trim it down with scissors if necessary.
9. Paint the skewers green and let them dry.
10. Then glue the two halves together with a skewer end sandwiched about 1-2 centimeters between the halves. Use paper clips to hold it all together until the glue dries if necessary.
Then use the green felt tip marker to draw the curve down the leaf like you see on the template. Now you can glue a leaf onto the skewer.
Repeat these steps for as many tulips as you like. The more, the merrier!
Patterns, Templates and Printables
Click on a pattern to open it in a new window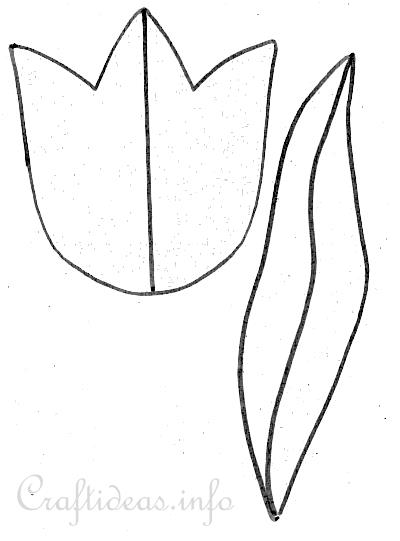 Other Images
Click on an image to open it in a new window
Contributor

Craftideas.info
On Craftideas.info you will find hundreds of free craft projects for all seasons of the year, free craft templates for the projects and over one hundred step-by-step picture tutorials. New crafts, patterns and tutorials are being added regularily!