Spring Chicken Greeting Card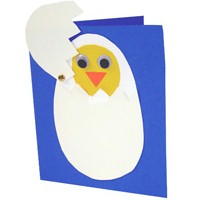 Spring has sprung and so is this little chick as it heralds the beginning of the Spring season.
Supplies
Elmer's Washable School Glue™
Elmer's 3D Washable Paint Pens™
Sheet of Blue Construction Paper
Sheet of Yellow Construction Paper
White Poster Board
Paper Fastener
Scissors
Marker
Instructions
Cut out a pair of matching ovals from white poster board.

Cut out a chick from a sheet of yellow construction paper. Make sure that the chick will fit within the dimesions of the egg shape you just cut out. You can make a simple chick shape by drawing a shape that resembles the number "8", with a small top half and a larger bottom half.

Glue on a pair of Jiggly Eyes. Paint a beak on the chick using Elmer's 3D Washable Paint Pens™. Let the glue and the paint dry completely.

Center the chick on one of the white ovals. Glue the chick in place.

Cut of the upper half of the second white oval in a zig-zag pattern so that it looks like a crack. Glue the bottom portion of the egg over the chick, matching up the edges to the black oval.
The chick's head should be showing above the jagged edge.

Lay the top piece of the cracked egg over the chick's head. Fasten it to the lower portion of the egg with a paper fastener. The top portion will act as a hinge, opening and closing.

Fold a sheet of blue construction paper in half to make a greeting card.

Glue the egg and chick to the front of a greeting card.

Write a message inside of the card and give it to someone special!
This craft reprinted courtesy of Elmers.com.
Contributor

Elmers