Space Shuttle Party Treat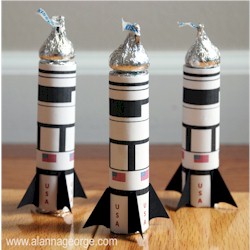 These Space Shuttle Treats are a great to celebrate the birthday of kids who are into space adventures.
Supplies
Lifesaver Rolls
Hershey's Kisses
Glue Dots
School Glue
White Paper
Color Printer
Silhouette Machine (optional)
Black Paper
Instructions
Use a large glue dot to stick a Hershey's Kiss to the top of each Lifesaver roll.
Use a color printer to print out the Space Shuttle Treat Download and then cut out all the needed pieces. (If you have a Silhouette Cutter and Illustrator it will be easiest to download the file and open up the .pdf page of fins in Illustrator, then use black paper in your machine to cut out the fins.)
 
Wrap the Space Shuttle paper around the Lifesavers and adhere the wrapper to itself by making a line of glue along the long edge and overlapping the ends of the paper. Hold in place for a few seconds to let it set, then put it aside to dry.
Make a small fold on the long straight edge of each fin. Run a small line of glue along each (4) black line at the bottom of the space shuttle wrapper (see pic for reference) adhere fins to wrapper. Hold in place for a few seconds and then put it aside to dry.
Use as a treat at a space themed party or pass your Space Shuttles out at school on your birthday!
Patterns, Templates and Printables
Click on a pattern to open it in a new window
Contributor

The Craft Nest
Alanna began her career as a Design Manager in the scrapbooking industry. After the birth of her first daughter she turned freelance designer, crafter and stay-at-home mom. She resides in Michigan with her husband and their four kids (2 girls and 2 boys). You can find more crafting ideas and how to's at her blog, Alanna George | The Craft Nest (www.alannageorge.com).