Soda Can Tab Belt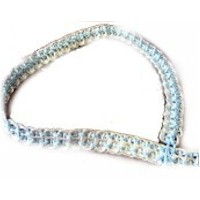 It won't take long for kids to save up enough soda can tabs to make this cool Soda Can Tab Belt.  Teens and Tweens will love to show off their recycling efforts and the latest trend.
Trivia:  You can help support the Ronald McDonald House of Durham by collecting the little tabs you pull to open soda, soup or other aluminum cans. The funds generated from recycling these aluminum gems help offset the House's expenses.
Supplies
Soda can tabs (112 tabs make a 35 inch belt)
1cm wide Ribbon or cord
Instructions
Cut the cord into 2 lengths they should be about 10 ft long each. Tie the two cords together about 8 inch in from the ends. Click on printables for diagrams on how to thread the cords.
Thread the cords through each hole of one tab.
Thread on a second tab so it overlaps the 1st tab.
Push the cord back through the holes of the second tab and the holes of the first tab.
Turn it over and cross over the cords.
Thread the cords (now crossed over) through a third tab.
Push the cord back through the holes of the third tab and the holes in the second tab.
Keep using this pattern until you have a belt big enough for your waist and just knot it when you get to the end. Leave enough cord or ribbon to tie the belt and cut off any remaining cord.
Patterns, Templates and Printables
Click on a pattern to open it in a new window

Contributor

CraftBits
Our website was created by a mother and daughter team, adding a unique combination of crafting qualities and expertise of creativity. We started our website after numerous years in the area of craft, teaching, retail craft and owning a gift store. We decided to launch it to provide resources for teachers, therapists, and craft enthusiasts in the year 1999. Since then, the website has grown tremendously in terms of content and resource information.