Soaring Butterfly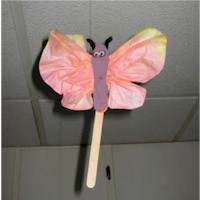 This stick craft butterfly is fun to wave in the air like it is flying through your house. Or, use the stick as a plant stake to add something extra to an inside potted plant.
Supplies
2 Wooden craft spoons
1 Wooden popsicle stick
2 Paper coffee filters
Multiple color dyes
Dropper/ baster
Googly eyes
Glue
Paint
Paint brush
Black pipe cleaner
Tape
Instructions
Paint the wooden craft spoons and allow to dry.
Cut one coffee filter smaller than the other.
Bunch the coffee filters in the middle to resemble wings and tape to the back of one of the wooden craft spoons. Place the larger coffee filter on the top and the smaller filter on the bottom.
Attach the other craft spoon with glue to complete the back side. Allow the glue to dry.
Using some type of dropper, such as a medicine dropper or a food baster, pick up some dye colored water and drop over the coffee filter to create a multi-colored creation. Work over newspaper or in a cardboard box (something to contain the mess).
Allow to dry.
Glue on googly eyes, black antenna, and a popsicle stick at the bottom. Allow glue to dry.
Use the popsicle stick as a handle to fly the butterfly through the air, or use it as a plant stake to add fun to an inside potted plant.
This craft reprinted courtesy of ThriftyFun.com.
Contributor

ThriftyFun
Our goal at ThriftyFun.com is to provide valuable information to help people save money, save time and solve problems. ThriftyFun and its predecessors have been online since 1997. ThriftyFun has grown from modest beginnings to become a vibrant online community. Today, ThriftyFun.com is an interactive Web site where you can post questions and contribute answers to others who are trying to have fun while saving money.