Snowmen Cupcake Skewers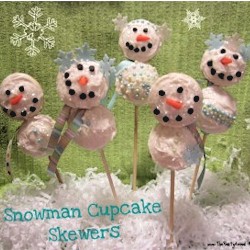 What could be more fun than letting the kids help with the party food, especially when it is Snowmen Cupcake Skewers.
Supplies
Mini Cupcakes – I used White Cake Mix
White Frosting
Wood Skewers
Mini Chocolate Chips
Candy Corn
Wilton's Pearlized Sprinkles – Green & Blue
Wilton's Cake Sprinkles Edible Glitter
Edible Snowflakes – Blue & White
Colored Ribbon
Jelly Beans
Instructions
I had 3 different Ribbons all within the same color story with Blue & Green. Cut the Ribbon and Tie it onto the Skewers – These Ribbons will be the Cupcake Snowman's Scarf. After I tied it on I then removed it to be added back on later, but kept it tied to easily slip back on.
Next I took my Candy Corn – which happened to be the Fall Colored Corn to create some Snowman Noses. First I cut the Orange Tip of them off and then I cut that in half. (I also ate some of the left over Candy Corn to stay energized – lol)  To make them easier to cut  I stuck them into the microwave for a few seconds to soften them up so they did not crumble when cut. These just made the perfect Carrot Noses.
Now for the fun part – creating our Snowman Faces. Frost your Cupcakes and stick in the Mini Chocolate Chips for the Eyes and Mouth. Then place on your Candy Corn Nose. Place the noses on each of your Snowmen in different directions. My sister made a couple where she put the nose on sticking out. It is nice to have a variety.
Next it is time to add some Buttons & Bling. Using the Pearlized Candy Sprinkles have fun creating Buttons on your Snowman. Mix and Match them – add more or less – have fun and make them all different. My favorite part was adding the BLING which is the Edible Glitter. This took the Snowman from Flat to Pow.
This craft is reprinted courtesy of ThePartyAnimal.org.
Contributor

ThePartyAnimal.org
If you are looking to have a party to remember then thepartyanimal.org is the right place to come.