Snowman PileUp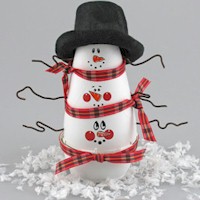 It's a pile up! These three snowmen cleverly decorate a Renuzit® Adjustable Air Freshener for great scents all winter long. Snowman crafts are great for Christmas and into the winter months as well. You can put together a Snowman themed birthday party with all your snowman crafts.
Supplies
The Dial Corporation Renuzit® LongLast® Adjustable Air Freshener*
Warm White Acrylic Paint
Three snowman face rub-ons
20" length of 18 gauge brown wire
36" length of 3/8" wide red plaid ribbon
Black felt hat, approx. 2" diameter opening
Hand drill and drill bits
Craft glue dots
Paint brush
Ruler
Scissors
Craft snip
Fine sandpaper
Pencil
Instructions
TOPPER & BASE: Lightly sand Renuzit® base and topper. Remove sanding dust. Paint base and topper with Warm White. Let dry.

ARMS: Use craft snip to cut wire into two 3" pieces and four 31/2" pieces. For arm placement, use a pencil and ruler to measure and mark vertically along one side of topper, 5/8", 1 5/8" and 3" from bottom edge of topper. Repeat to make similar marks on opposite side of topper. Drill a small hole at each mark.

For top snowman, place one 3" piece of wire into hole. On inside of topper, bend 1" length of wire into a loop and press next to topper. Secure to inside of topper with craft glue dot. Repeat for arm on opposite side of topper using 3" piece. Repeat for other remaining arms using 31/2" pieces. Crimp and bend wire arms as desired to resemble twigs.

RIBBON SCARVES: For top snowman, from ribbon cut a 10" length. Wrap ribbon around topper under snowman's arms, tie into a knot and trim ribbon ends at an angle. Repeat for middle snowman, cutting a 12" length of ribbon. For bottom snowman, use remaining 14" length of ribbon, wrap and secure with glue dots around top rim of Renuzit® base. Tie ribbon into a knot and trim ribbon ends at an angle.
This craft reprinted courtesy of the Dow Corporation makers of Renuzit.
Contributor

Renuzit