Snowflake Ornament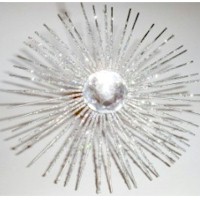 Here is a quick Christmas craft the the kids will love.
Supplies
50 tooth picks
Spray paint
Glitter
Two 1 inch (2.5cm) Acrylic Gem Stones
Cord for hanging
Hot Glue
Instructions
Start by taking your tooth picks and spray painting them silver. While they are still wet roll them in the glitter, you can add extra glitter to the picks later too.

Allow the picks to dry and then glue them onto the back of 1 of your gems. Use a good dollop of hot glue or craft glue to make sure the picks adhere well. Place the picks in a circle layout and once secure glue the second sequin onto the top.

You can add extra glitter by spreading some glue onto the picks and sprinkling the glitter over the top.

These look great in gold and white for a lovely snowflake effect.
This craft reprinted courtesy of Craft Bits.com
Contributor

CraftBits
Our website was created by a mother and daughter team, adding a unique combination of crafting qualities and expertise of creativity. We started our website after numerous years in the area of craft, teaching, retail craft and owning a gift store. We decided to launch it to provide resources for teachers, therapists, and craft enthusiasts in the year 1999. Since then, the website has grown tremendously in terms of content and resource information.