Smores Snowman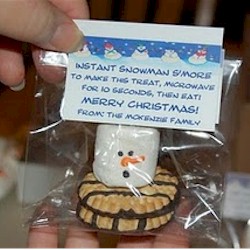 Here's a new variation on the Campfire Smores that is sure to make every kid asking for more.
Supplies
Marshmallows
2 Tbsp. of canned icing
Wilton decorator food colors, orange and black (these make the truest colors instead of mixing the drops)
1 wooden skewer broken in half (use pointed end for painting nose, flat end for eyes and mouth)
Striped cookies
Cellophane bags (if desired) 

Instructions
Mix 1 T. frosting with orange food coloring.  Melt in the microwave.  Repeat with the black coloring and frosting.  (This will make enough for a bag of marshmallows.)  Make an orange nose on the rounded sides of all the marshmallows with the pointed end of the skewer.  After the noses are finished, add the eyes and mouth with black frosting (using the blunt end of the skewer).
Place the marshmallow in the microwave on top of a striped cookie. 
Microwave for 10 seconds (no longer unless you want a tough marshmallow)!
Put another cookie on top.  Enjoy your "melted" snowman!
My friend gives these treats to others at Christmas time.  If you want to share them, make sure to let the frosting dry completely, then place 2 cookies and one snowman marshmallow into a cellophane bag.  Include directions to microwave for 10 seconds!
This project is reprinted courtesy of the Amazing Mess.
Contributor

The Amazing Mess
Stacie is the mom of three little girls, wife to her college sweetheart, former elementary teacher, and mess-maker extraordinaire! She blogs about craft projects, cooking, and other enrichment activities for young children