Silly Puppet Spoons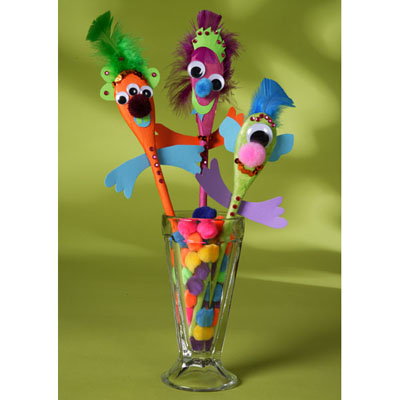 Kids can let their creativity run wild making these Silly Puppet Spoons. There is no right or wrong way to create this fun craft. So set out the materials and give some basic instructions and turn them loose. Repurpose old wooden spoons or ones you find in the dollar store.
Supplies
Wood spoons
Construction paper – desired colors
Wiggle eyes – different sizes
Tissue paper – desired colors
Feathers – desired colors
Foil
Scissors
Pompoms – desired colors
Sequin trim – desired colors
Pencil
Large flat paintbrush
Tulip Glam It Up self-stick crystals
Instructions
Squeeze a puddle of Original Tacky Glue onto a piece of foil. Dip paintbrush into glue then brush onto spoon. While glue is still wet, wrap tissue paper around the entire spoon as shown. Let dry.
Use a pencil to draw arms on construction paper then cut out. Glue to handle of spoon where shown. Let dry.
Draw ears, mouths and headpieces as desired on construction paper then cut out.
Adhere eyes, pompom, construction paper and sequins to spoon to create facial features. Refer to photo. Glue feathers to tops of heads (on backside of spoon) and let dry.
Stick PDA Crystals on handle of spoon and around "face" to embellish.
Contributor

ILoveToCreate.com
Where you can explore and share, crafters can play and artists can grow!