Sheet Music Wreath Craft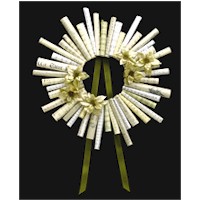 A delightful wreath for kids to make for their favorite music teacher. This is a craft that is created with sheet music rather than foliage! If you don't want to ruin sheet music, just photo copy it for the same effect.
Supplies
STYROFOAM™ Brand Foam:
Round-Face Wreath, 12" x 2-1/2" x 1"
Photocopied carols or other sheet music, 8-1/2" x 11" sheets, 40-50 pages on asst. neutral papers
Coordinating silk flowers
Coordinating ribbon, 1" x 1-1/3 yds.
Pencil
Ruler
Wooden dowels (optional): 1/2" diameter; 3/4" diameter; 1" diameter
Scissors
Paper trimmer (optional)
Low-temp glue gun and glue sticks
Thick, white craft glue
Instructions
Use paper trimmer or scissors to cut each sheet music page in half. Roll all half-page sheets into tubes from 1/2"-1" diameter; apply thin bead of white glue along length of tube to secure paper edge. Note: To ensure uniform sizes and save time, wrap papers around dowels.
Cut tubes into a variety of lengths from 3-1/2"-7". Use glue gun to secure tubes to foam wreath. Keep tube ends around wreath opening even to create smooth circle; refer to photo.
Fold ribbon in half to create a long, thin V shape. Glue V shape to back of wreath to create hanger. Glue florals to wreath as desired.
Contributor
FaveCrafts.com
FaveCrafts is owned by Prime Publishing LLC, an Internet Media Company that operates web site communities, e-mail newsletters and e-commerce stores in niche areas such as crafting, home décor, wellness, and cooking. See their craft projects at https://www.favecrafts.com/