Shamrock Milkshake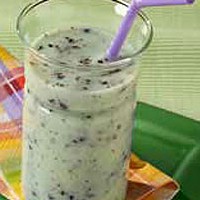 This craft reprinted courtesy of Kraft Foods.
Everybody's Irish on St. Paddy's Day so celebrate with this fun Shamrock Milkshake.
Supplies
1 cup 1% milk
2 Tbsp.  JELL-O Pistachio Flavor Instant Pudding
1 OREO Mint Pure Milk Chocolate Covered Chocolate Sandwich Cookie, finely chopped
Instructions
Pour Milk in a Tall Glass, add dry pudding mix and stir 2 or 3 minutes or until pudding is completely dissolved.
Stir in chopped cookie.
Serve immediately.
Contributor

Kraft Foods
For over two hundred years, many companies have united to make Kraft Foods what it is today. Check out their heritage page and learn the many companies that comprise the Kraft family of foods.