Shamrock Felt Broach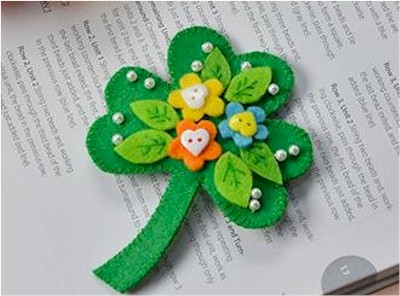 If you don't have anything green to wear on St. Patrick's Day, you can make this Shamrock Felt Broach and wear it with pride to show you are Irish if only for a day.
Supplies
10mm Colorful Acrylic Buttons
6mm White Glass Pearl Beads
Brass Brooch Findings
Green Felt Paper
Needle
Green Cotton Thread
Cotton
Scissors
Glue Gun
Glue Stick
Instructions
Step 1: Make preparations for the shamrock shaped brooch
1st, cut 2 pieces of green shamrock shaped felt paper as shown in the picture;
2nd, cut 3 colorful flowers (the colors are up to you, here I chose the color orange, yellow and blue);
3rd, cut several pieces of small leaves as shown;
4th, thread the green cotton thread through the needle, then stitch branches on the small green leaves one by one;
5th, stick colorful button on the flowers one by one.
Step 2: Decorate the shamrock shaped brooch
1st, stick the 3 colorful flowers on the center of the shamrock brooch;
2nd, stick the small leaves on the brooch respectively;
3rd, thread white cotton thread through a needle, then sew the 6mm white pearl beads onto the green felt leaf separately;
4th, place the other piece of the green leaf felt paper under the one that has colorful patterns, then sew them together and leave some space for cotton as shown.
Step 3: Finish the green felt shamrock brooch
1st, fill the shamrock brooch with cottons and finally sew the whole part together;
2nd, attach a brooch finding base clip to the back of the leaf pattern and finish the brooch.
Tada! This charming green felt paper shamrock brooch with buttons and pearls decorated is finished!
Contributor

Panda Hall Learning Center
Pandahall Learning Center is a large and free active online community on jewelry craft knowledge sharing. It collects thousands of jewelry making projects, techniques instructions about beading, wire wrapping, braiding etc.,as well as craft ideas and customer shows.