Sea Shell Decorations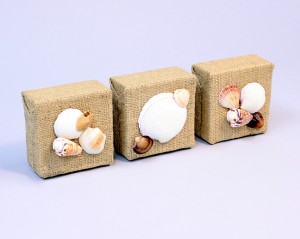 Make these Sea Shell Decorations from all of those shells you collected this summer. Use our idea as a guide, but be adventurous and experiment with your own designs inspired by your shell collection.
Supplies
One  15/16″ x  3 7/8″ x  11 7/8″ Foam Block
Foam Cutter
1/4 yd. natural color burlap (or three 8″ x 12″ pieces)
Fifteen 1″ – 3″ diameter assorted sea shells
All purpose glue stick
8″ scissors
Ruler
Pencil
Glue gun and glue sticks
Instructions
Measure and mark to divide 11 7/8″ side of STYROFOAM™ Block into three sections, each approx. 3 7/8″ x 3 7/8″. Use Foam Cutter to cut Block along marked lines.
Note how blocks sections are setting on one of their 3 7/8" sides. To cover, starting at bottom, wrap burlap around one Block section, slightly overlapping and glue on bottom edge. Wrap and glue each side as you would wrap a package. Repeat to cover other two Block sections.
Refer to photo to arrange shells as desired on front of each Block section. Use glue gun to attach. If needed to balance panels so that they don't tip forward, glue additional shells or stones to backside for counter balance.
Display panels in desired arrangement on mantle, shelf or table.
Contributor

FloraCraft
FloraCraft(r), locally owned and operated in Michigan, has beenserving the craft and floral industries for 65 continuous years, providing quality STYROFOAM(tm) Brand Foam in shapes and sheets.  We are dedicated to helping beginners and professionals achieve their best results, FloraCraft products are the foundation of every great project.