Scalloped Edge Flowers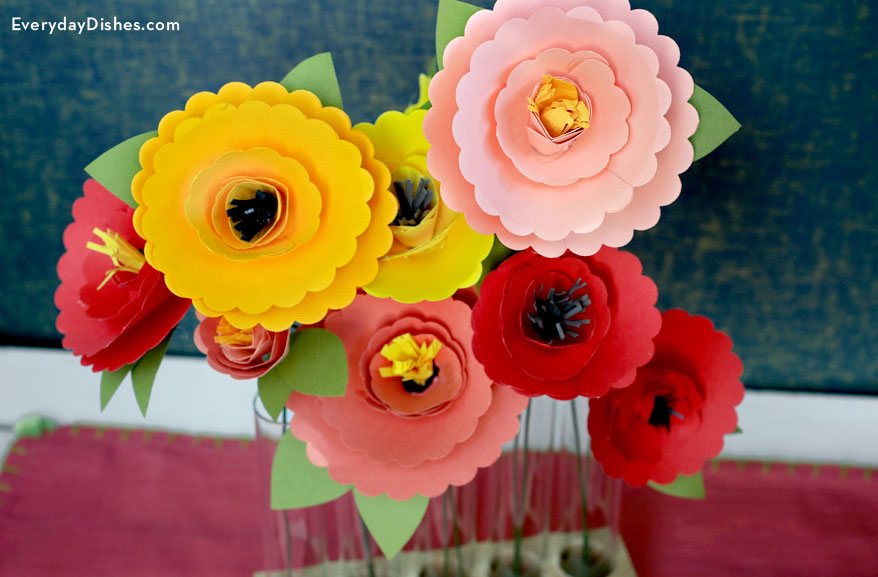 Everyone will love receiving a bouquet of these Scalloped Edge Flowers. They make a beautiful gift and decoration for any occasion.
Supplies
Card stock, various colors
3.5" Scallop circle die-cut or scallop scissors
Floral wire
Hot glue gun
Toothpick
Instructions
Cut out paper shapes using a die-cut or scallop scissors—you'll need 3 cutouts per flower.
Starting at the edge of 1 cutout, cut a slit to its center. Overlap the 2 cut ends and glue together.
Starting from the edge of a second cutout, make 2 slits to form a small triangle—much like a slice of pie.
Overlap the 2 cut ends enough to make the cutout smaller than the first one then glue to adhere.
Cut a 1.5" hole in the center of a third cutout, discard and then cut the cutout in half. Overlap the ends of one half of the cutout slightly and glue together. Loosely roll up the other half to form a bud.
Layer and glue the cutouts on top of each other, starting with the largest and ending with the smallest. Place the bud in the center, apply glue to secure then fringe a small scrap of card stock. Roll it up, glue it in the center of the bud then use remaining scraps to cut out leaves.
Carefully poke a hole through the center of the flower with a toothpick. Insert a piece of floral wire for the stem then glue two leaves on the back.
Arrange flowers in containers. Cut floral wire as necessary to create stems of various lengths.
Contributor
Everyday Dishes & DIY
Everyday Dishes & DIY (formerly Cherylstyle) is an online lifestyle media company stirring up dependable recipes and crafts for the everyday family. We collaborate, develop, test and re-test all original content in-house, working out the kinks so you don't have to! Everydaydishes.com publishes new recipes, diy projects, craft ideas and videos daily.