Reeses King and Queen Angel Ornament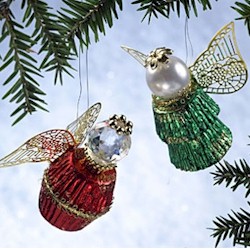 Make these sweet little angels to decorate your tree or your packages. Make sure you have extra candies, because the kids really like them.
Supplies
2 REESE'S Peanut Butter Cups Miniatures (holiday foils)
2 metallic leaves for the wings
Small bead for head
Small ring for the halo
Miscellaneous ribbon or craft wire for the hanger
Small ribbon for the trim
White craft glue or low temperature glue gun and glue sticks
Editor's Note: Hot melt glues should be used with adult supervision.

Instructions
Glue two candies together as pictured.
Glue the halo on the bead, then glue the bead on the top of the candies.
Cut a piece of ribbon or craft wire for hanger and glue to the back of the candy piece.
Add the wings to cover the ribbon on the back.
Add a small ribbon across the front.
Use Angels to decorate holiday trees and wreaths, as party favors or place an Angel at each dinner table place setting.
Completed craft is for decorative purposes only and candy should not be eaten.
Contributor

Hersheys
© The Hershey Company is the largest producer of quality chocolate in North America and a global leader in chocolate and sugar confectionery and is headquartered in Hershey, Pa.