Red, White and Blue Straw Frame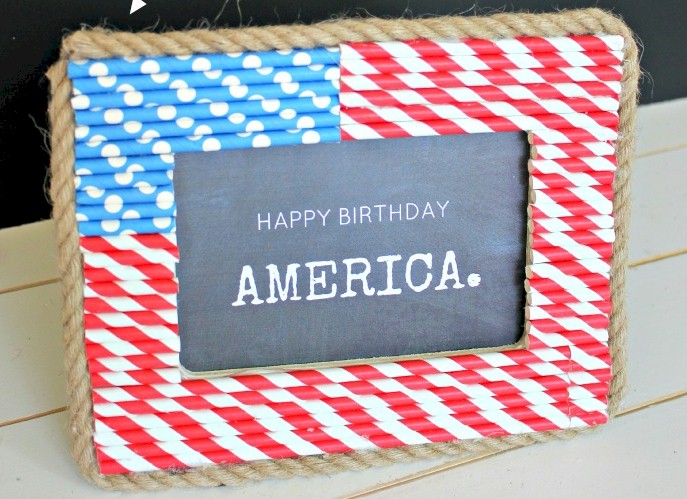 Make this Red, White and Blue Straw Frame to hold your favorite picture of a family veteran or service person. This would be a special gift to make for a veteran in the hospital or nursing home to remind them that you remember their service. It is a great craft for all of our patriotic holidays.
Supplies
Picture frame (I got mine for $1 at Michael's)
Blue polka dot and red striped paper straws
Hot glue gun
Jute rope for trim (optional)
Scissors
Instructions
Cut straws to length … enough to cover the top, both sides, and bottom of frame.
Begin gluing the straws into place.
Add rope trim to the outside (with hot glue).
Add a picture … a cute printable … or anything, really, and that's it!  Display at your BBQ or just for fun in your home this summer!
Contributor

View From The Fridge
Katie is the writer and creator of View From The Fridge. She is also the mom to two adorable little boys (and another baby on the way), and wife to a great guy! She loves to craft, decorate, dream up projects for her home, and she's learning to love to cook (though not there quite yet). She started View From The Fridge in the fall of 2013. Katie also enjoys coffee, a good glass of wine or beer (when she's not expecting!), running, and anything outside. She lives in Minnesota and takes full advantage of the wonderful (but short) summer season outside with her family.
Tags Frames kids can make