Recycled Water Bottle Octopus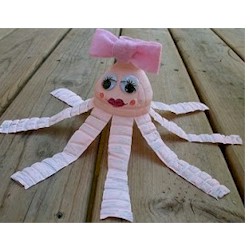 This pretty little Octopus is made from a recycled water bottle. Great way to encourage recycling.
Supplies
1 empty water bottle
scissors
pink paint
1/2 sheet pink felt
instant grab glue
2 large wiggle eyes
Markers (pink and maroon or red)
Instructions
Cut off the bottom of the water bottle.
Don't throw it in the garbage. You can either recycle it or save it to use in another craft project.
Paint the water bottle pink and let it dry.
When the paint has dried, use scissors to cut strips in the bottle. Start at the bottom and go up to about 3 inches from the top, just leave enough room for the head.
Cut a strip of pink felt to cover the top of the bottle and glue it in place. By the way, you should have saved the lid too, for another project. ;) Always save your lids, they are great in a pinch and don't take up much space!
Cut a long strip, about an inch in width, from the remaining pink felt. Tie that strip into a bow. Trim the ends and glue that to the front of the pink strip around the mouth of the bottle.
Now just glue on some eyes and use markers to draw on some lips and cheeks! Done.
While you have the water bottles out try this Recycled Water Bottle Fish too:
This craft is reprinted courtesy of CraftBits.com.
Contributor

CraftBits
Our website was created by a mother and daughter team, adding a unique combination of crafting qualities and expertise of creativity. We started our website after numerous years in the area of craft, teaching, retail craft and owning a gift store. We decided to launch it to provide resources for teachers, therapists, and craft enthusiasts in the year 1999. Since then, the website has grown tremendously in terms of content and resource information.