Recycled Treat Container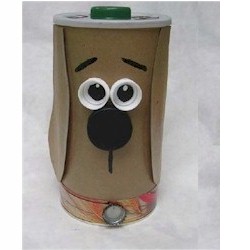 Kids will find hours of fun and inexpensive crafting with recycled materials like these  left over food containers that have been turned into storage units for puppy treats. Recycling can provide all kinds of crafting treasures.
Supplies
Coffee or oatmeal containers (Choose a container with a re-sealable lid.)
Various sizes plastic bottle caps (Eyes are from milk cartons, knobs and nose from spice jars, vitamins and juice bottles.)
Brightly colored cereal box
Earth Safe Finishes (
www.earthsafefinishes.com
)
Metal bottle caps
Gel Medium
Interior Varnish in Satin
Generation Green Acrylic Paint in Glacier and Black Storm
Tools- paintbrush, pencil with new eraser, scissors
Instructions
Gather supplies and remove paper cover from container.
To make the knob on top of the container and nose sturdier; turn those caps upside down and glue a smaller cap inside with gel medium.
Paint the dog nose Black Storm.
 
Paint the inside of the eye caps using Black Storm. Use the end of a pencil eraser to make round eyes for dog. Allow the black paint to dry then dot the tops of the eyes with Glacier using the wood end of a paintbrush or a toothpick.
 
Glue with gel medium eye caps and nose caps to side of container. (Refer to the project photograph for placement.)
 
Glue the knob cap to the center of the lid with gel medium. Use a small paintbrush and Black Storm to paint letters on lid. (Here is a great place to personalize the treat container.) Dips the eraser end of a pencil into black paint then dot the ends of each letter. Use a pencil eraser to make paw prints on the knob or anywhere on the container you like.
Paint black muzzle line and eyebrows on dog. 

Cut ears from cereal box. (Adjust ear pattern to fit your container. Sample container is 9 1/4" high.)  Glue ears to container.
 
Cut 1"-1 ½" strips from cereal box for collar. Glue along bottom edge of container. Glue metal bottle cap to collar.
 
All gel medium glue to dry then brush a coat of varnish over all surface to protect them from smudges.
This craft was designed by Barbara Matthiessen for Earth Safe Finishes and is reprinted courtesy of FaveCrafts.com.
Contributor
FaveCrafts.com
FaveCrafts is owned by Prime Publishing LLC, an Internet Media Company that operates web site communities, e-mail newsletters and e-commerce stores in niche areas such as crafting, home décor, wellness, and cooking. See their craft projects at https://www.favecrafts.com/