Recycled Train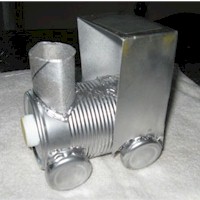 This Recycled Train was designed by Wendy from Coopersburg, Pennsylvania and uses "junk" that would otherwise go in the trash.  What can you make out of your cans and cardboard?
Supplies
Tin Can
Snapple tea lids
Small cardboard box from margarine
Glue Sticks
Glue Gun*
Silver Spray Paint
Editor's Note: Glue gun should be used by a responsible adult.
Instructions
We used a tin can and some Snapple tea lids for the wheels.
We found a cardboard box from some sticks of butter, toilet paper tube and used hot glue to fasten it together.
Add a coat of silver spray paint and you are on the rails!
We saved some cereal boxes and created a tunnel too.
Contributor

ThriftyFun
Our goal at ThriftyFun.com is to provide valuable information to help people save money, save time and solve problems. ThriftyFun and its predecessors have been online since 1997. ThriftyFun has grown from modest beginnings to become a vibrant online community. Today, ThriftyFun.com is an interactive Web site where you can post questions and contribute answers to others who are trying to have fun while saving money.