Recycled Plastic Egg Frogs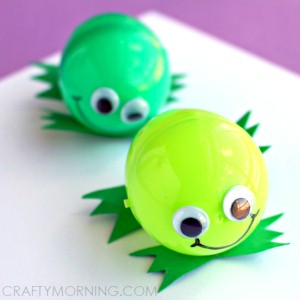 Leftover plastic eggs can be turned into these Recycled Plastic Egg Frogs to decorate your table or just to make and play with. Make sure to buy enough for crafting fun. Save the green ones for your frogs.
Supplies
Green plastic easter egg
Googly eyes
Black sharpie
Scissors/Glue
Green paper
Instructions
Glue on googly eyes and draw a smile with the black marker.
Fold a piece of green paper in half and cut frog legs.
Glue them underneath the egg and let dry.
Now wasn't that easy!
Contributor

SassyDealz.com
"Michelle has a teaching degree and for the love of art she started sharing kids crafts on her blog to inspire teachers, parents, and the little ones! SassyDealz.com is not only a craft website, but also a place where you can find online bargains and freebies!"