Recycled Knotted Tee Shirt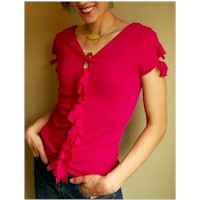 What a great, fun no-sew project that teens will love to make to update a plain tee.
Supplies
1 t-shirt (any color. best if it's 1 size larger than you normally wear)
Scissors
Measuring tape
Instructions
Cut up the middle from bottom through the top.
Measure from the outside of the collar 10" down to the middle line you just cut. Cut away the material. Repeat on the opposite side.
Cut off the remaining collar.
Cut strips about 3" long and about 1" wide all the way down each side.
Starting at the top, take 1 strip from each side and tie in a knot bringing the center together. Continue all the way down.
Cut off the cuff of each sleeve.
Cut a 1" slit on the "top" of the sleeve.
Cut a 3" slit into the sleeve. (this creates 2 pieces to knot like the front of the shirt) Tie into a knot on each sleeve.
and you are done! It's not a "fancy" top but it's one that ANYONE can do - even your kids - and that's why I wanted to share this design. It's still a plain colored t-shirt but now it's got texture, interest and something people will notice about it.
This craft is reprinted courtesy of BrassyApple.blogspot.com.
Contributor

BrassyApple.com
Brassy Apple - A small time girl doing what I love – Designing, sewing and creating "brassy" style patterns. I love crafting up my ideas and sharing my tutorials, ebooks and DIY kits.