Recycled Jeans Purse and Wallet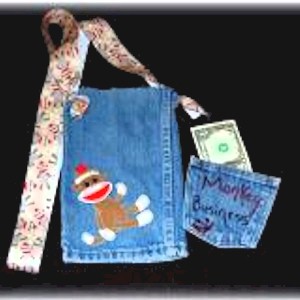 Show the kids how to make this Recycled Jeans Purse and Wallet from their outgrown jeans. This craft teaches the importance of recycling and also shows the kids that it really can be fun and functional. Nine year old Contest Winner, Maggie from Prescott Valley, Arizona contributed this craft for all of you to try.
Check out the related craft projects we've suggested so the kids can recycle the whole pair of jeans.
Supplies
Old pair of pants
Hot Glue Gun
Ribbon
Scissors
Embellishments
Instructions
1. Measure from the bottom leg hem up and cut the pant leg the desired length for your purse. (Mine is 9 1/2 inches)
2. Hot glue the hem of the cut pant leg together to close up the bottom of your purse.
3. From the top of your purse along the sides measure down 1 inch and cut a small hole in both sides to insert the ribbon for your strap.
4. Cut your ribbon the desired length for your strap, leaving room for tying knots. (I cut my ribbon at 40 inches to wear it sling style)
5. Take each end of the ribbon and string them into the holes you just made. Tie a knot on each side.
THAT'S YOUR PURSE
6. Embellish, decorate however you choose. (I hot glued a sock monkey applique on mine)
7. For your wallet, cut out a back pocket of the pants through both layers.
8. Embellish your wallet if you would like
VIOLA - 5 minute recycled purse with wallet
Contributor

FreeKidsCrafts Contest Winner
IT'S A WINNER! Take a look at what one of our talented viewers submitted to share with you. This craft was selected as one of this month's winners to received $50 in craft supplies. Click here to find out how you can enter your original creation for our judges consideration.