Recycled Goldfish Party Dish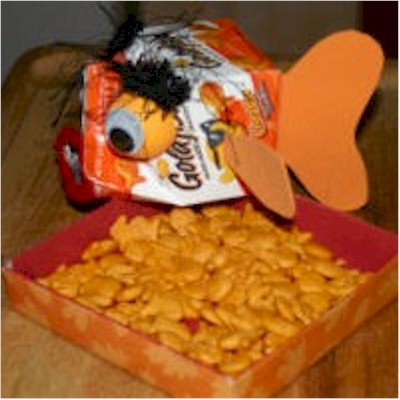 A recycled Goldfish Party Dish is a super fun craft for kids age 5 and up to make and a cute way to recycle those goldfish boxes. So many kids love those little goldfish treats and will enjoy turning the boxes into their own special bowl.
Supplies
Orange Foam Paper 2 Oz Goldfish Container
Orange Ping Pong Ball
2 Oz Goldfish Container Red Felt
Red Felt
Google Eyes
Black Eyelash Trim or edging
Scissors
Sharp Knife
Low Temp Glue Gun
Instructions
Remove the contents of the Goldfish cracker container.
Cut a tail shape and side fin shapes out of orange foam.
Have parent insert the knife into the container to make slits that the tail and fins can be inserted into.
Have a parent cut the ping pong ball in half using the same serrated edge knife. It is best to cut along the existing seam.
Glue a google eye to each half of the ping pong ball.
Glue the ping pong ball to the front top portion of the container to represent the eyes.
Add the eyelash trim to the top portions of each eye.
Open the spout portion of the container and glue red felt for the fish lips.
Hints:
Display with the goldfish crackers and your creation is bound to be the smartest fish in the school(of fish that is).
Put the Goldfish crackers back in the container and enjoy each them out of your new goldfish dispenser.
Contributor

Crafty Noodle