Recycled Flower Container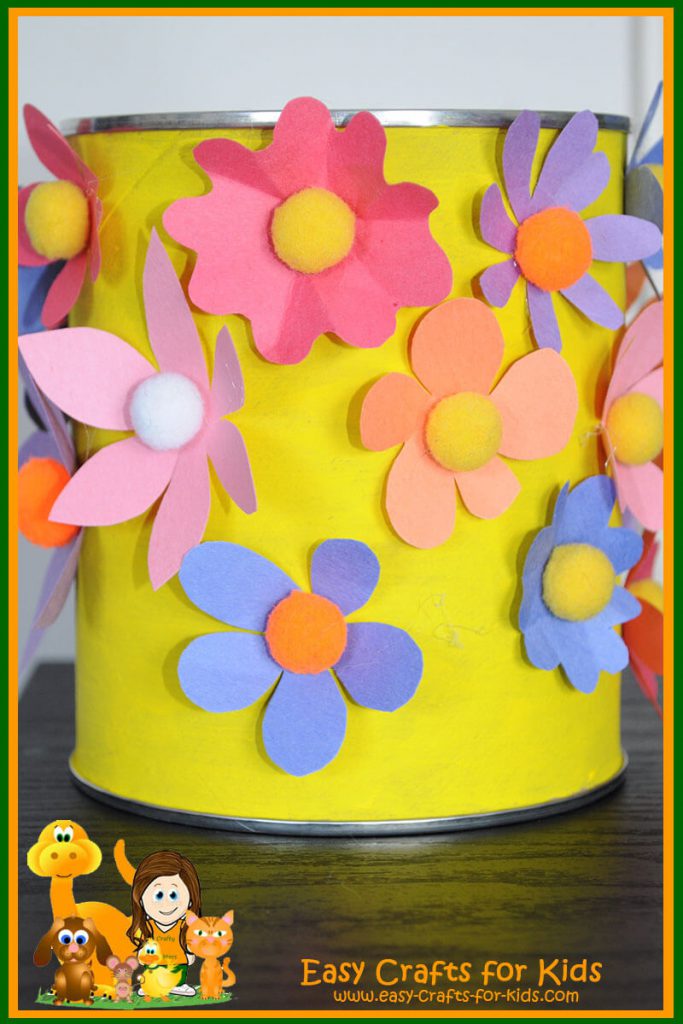 Here's an easy way to turn an old container into a pretty Recycled Flower Container to hold all kinds of special plants for Mom or a favorite teacher.
Supplies
Empty container
Paint
Paint brush
Construction paper
Pom poms
Glue
Scissors
Instructions
Step #1:
Chose the base color of your flower pot crafts for kids - we chose a nice, bright yellow. Paint the entire container with the chosen paint. Set it aside to dry completely.
Step #2:
Cut out a variety of different flowers - in all kinds of shapes and sizes. If you are not able to cut freehand like we did, just draw a bunch on the construction paper with a pencil and cut them out.
You will want enough flowers to nicely cover your pot with them.
Step #3:
Place a dot of glue into the center of each flower and glue a pom pom in place. You can use orange, yellow and white pom poms.
Step #4:
Bend the leaves of one of your flowers around the pom poms. Hold it in place for a few seconds. Once you let go this will give your flowers a little bend and make them stand out on the flower pot.
Step #5:
Repeat this same process for each of your flowers, it's a little bit time consuming but the end result is totally worth it.
Step #6:
Glue all the flowers onto your flower pot. All you need is a bit of glue on the back of the flower behind the pom pom. Glue them all around and fill up the pot.
Grab some soil and your favourite plant and fill up these flower pot crafts for kids!
Contributor

Easy Crafts For Kids
Join the Crafty Critters over at easy-crafts-for-kids.com for tons of easy crafts with simple step by step instructions. Stop by and meet the critters!