Recycled Coffeemate Penguin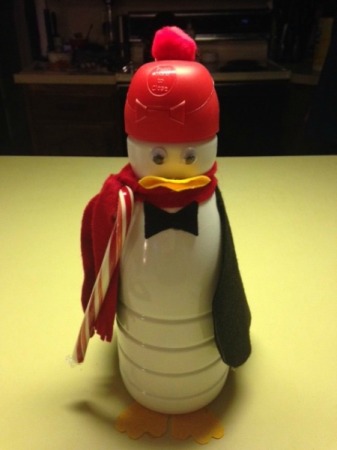 This Recycled Coffeemate Penguin will make a cheerful addition to your penguin collection. This project teaches the kids to recycle and reuse objects that would otherwise end up in the landfill.
Supplies
Coffee-Mate Creamer bottle
Red felt square
Yellow felt square
1/3 yard of black felt
2 10mm wiggley eyes
1 inch red pom-pom
Scissors
Hot glue sticks and glue gun
White spray paint....must be compatible with plastic
Candy cane
Instructions
Note: Use hot glue for all parts of construction.
Remove label from a large Coffeemate container, and wash the container and red cap. Set cap aside, make sure the outside of the bottle is dry.
Spray the "outside" of the bottle with several light coats, about 4 coats, of the spray paint, allowing to dry between coats. If you spray too heavily, the paint will run. Do not paint the inside if you plan to fill with candy inside. I filled mine with chocolate chips and mini marshmallows. Follow the step by step pictures.
Cut the black tux jacket from the black felt. It is about 10 x 6 inches rounded on the corners. Also cut a bow tie from the black felt. I bought my felt in the fabric department because the felt squares are not big enough.
For the scarf you will need a strip of red felt 1/2 inch wide and about 19 inches long. Snip the ends for a fringe.
Wrap the scarf around the neck loosely and hook the end of the candy cane into the knot.
The beak is a one inch square of yellow felt folded corner to corner to form a triangle, then glued in place.
Follow the picture to make the feet. Fold the felt, and you can cut both feet out and leave them attached in the center as the picture shows.
Glue the eyes and the red pompom for the hat in place.
Contributor

ThriftyFun
Our goal at ThriftyFun.com is to provide valuable information to help people save money, save time and solve problems. ThriftyFun and its predecessors have been online since 1997. ThriftyFun has grown from modest beginnings to become a vibrant online community. Today, ThriftyFun.com is an interactive Web site where you can post questions and contribute answers to others who are trying to have fun while saving money.