Rag Doll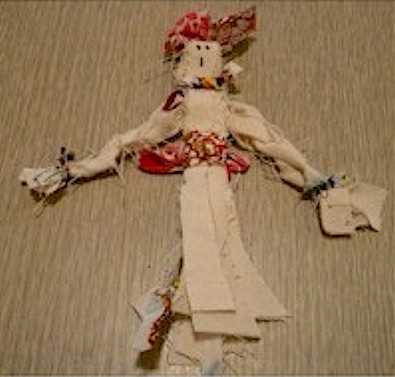 Scraps of cloth from old clothes turn into a delightful Rag Doll for hours of fun.  Why not pack away some of the kids toys and add some simple handmade items like this Rag Doll. When you get to a really boring day bring out the box with the packed away treasures and they will all seem new again.
Trivia: A rag doll is a children's toy. It is a cloth figure, a doll traditionally home-made from (and stuffed with) spare scraps of material. They are one of the most ancient children's toys in existence; the British Museum has a Roman rag doll, found in a child's grave dating from 300 BC.
Supplies
8 Strips of fabric 8″ long for the body
2 smaller strips for scarfs
Strips to tie off hands and legs
Scissors
Markers for Face
Instructions
Rag Dolls are simple to make will provide your kids with hours of entertainment.
Parental Involvement: Lots of teaching opportunities for knot tying, braiding, cutting, etc.
Kids Should Be Able to: Be safe with scissors
First hold the eight strips in your hand so the ends are even.
Second, using one of the smaller strips of fabric, tie a scarf on your doll's head.
Third, using another small strip of fabric, tie a scarf around your doll's neck.
Fourth, take three strips of fabric and braid them together to form an arm. Use a small strip of fabric to tie the ends of the arm together. Repeat to form the right arm.
Fifth, take a small strip of fabric and tie it onto the middle of your doll, forming the waist.
Next, tie a small strip of fabric onto two strips of the fabric to form your doll's feet.
Draw a face.
Next step: give your doll a name.
Finally, give your doll a lot of love! (Or give your action figure a lot of love, as the case may be.)
Images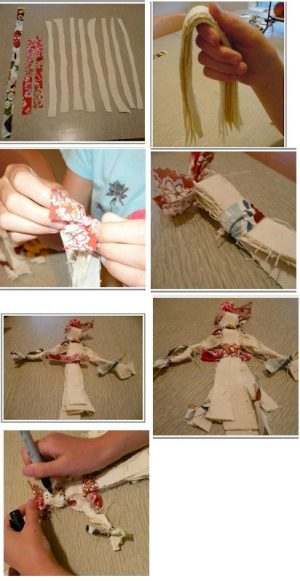 Contributor

Today Is Fun
Over at TodayIsFun.com, Steve and Paul are two dads with tons of ideas for free, fun, and educational activities for kids. With Today Is Fun, kids (and their parents) will have a variety of family-bonding, learning and good times.
Supplies
Instructions
Contributor

Sudbudz
Want to have some creative family time? Print out our SudBudz® Masks and get crafty with the kiddos! More than just a typical Fizzy Bath Ball, SudPrize® is a first ever line of skin-loving and natural bath products that make bath time Fun for Kids and Easy for Moms. A Free companion App, SudBudz® engages your children into an immersive world of special and unique characters called SudBudz®.