Quilled Sunflower Frame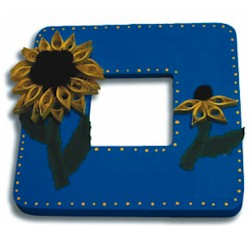 This pretty Quilled Sunflower Frame makes a beautiful gift that can be filled with a special picture. The sunflower is the state flower of Kansas. At one time it was considered a weed but in 1903 it was adopted as the state flower and is on the states seal and flag. The sunflower ranks as one of the most commercially valuable flowers. It also yields sunflower oil and of course seeds.
Supplies
8" x 8" Wood frame
Textured paper - yellow, green
Acrylic paint - blue, yellow
Nine ½" pom poms - brown
Paint brush
Large paper trimmer
¼" dowel
Glue
Scissors
Instructions
1. Paint the frame blue. Let dry.
2. Using the end of the paint brush, dip in yellow paint and make dots around the outer and inner edges of the frame. Let dry.
3. Using the large paper trimmer, cut thirty ¼" x 12" strips of yellow paper.
4. Squeeze a small amount of glue on scrap paper. Using the dowel rod, wrap each strip of paper tightly. Slide off dowel. Let open loosely. Place a small amount of glue on end to seal loosened coil. Pinch each end to make petal of sunflower. Make 30 petals.
5. Using green paper, tear leaf and stem shapes, or use patterns and scissors.
6. Glue stem and 2 leaves to one side of frame.
7. Glue sunflowers petals in circle to form flower, use 14 petals.
8. Glue 8 pom poms in center of petals.
9. Glue second layer of petals on top of first, use 12 petals. Reserve 4 petals for bud.
10. Glue shorter stem and 1 leaf to other side of frame.
11. Glue 4 petals to make bud of flower. Glue one pom pom to top of bud.
Patterns, Templates and Printables
Click on a pattern to open it in a new window
Contributor
HANDS ON Crafts for Kids
Remember what we all say at Hands On Crafts for Kids, "there's no right or wrong way to crafting…only our way!" We hope that you will join us for Hands On Crafts for Kids – Back to Basics.