Quilled Snowflakes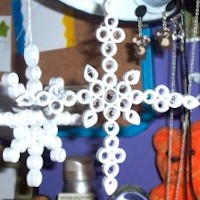 Not all crafts are perfect for the smallest crafters and these Quilled Snowflakes are suited for the older pre-teen or teenager. When finished you can be sure these beautiful snowflakes will bring a twinkle to the eye of young and old alike.
Supplies
White printer paper
Non-cross cut paper shredder
2 toothpicks
1 seed bead
White glue
Spray glitter or other glitter
White string
Instructions
Start by taking the 2 toothpicks and shoving the ends into the seed bead this can be hard to do, you could also use a chopstick.
Take the paper shredder and shred 2 pieces of paper long ways, again you could do this step by hand but I don't recommend it. Take a strip of paper and round it
between the toothpicks or around the chopstick, until you have it all curled up.
Try to do this tight and straight. Next release the piece of paper and glue the end down.
Make as many as you need most large snowflakes as shown here take 40-50 rounds. Next if desired pinch the end of the circle to get a point and so on. Once you are done making the circles.
Glue them together in any design. You can make all sorts of snowflake designs o 2 are the exact just like real snowflakes. Once the glue has dried take a piece of white string and tie a loop around the top. You can either paint with glue and sprinkle glitter, or take it out side and spray it with glitter in a can. Makes great ornaments.
Contributor

CraftBits
Our website was created by a mother and daughter team, adding a unique combination of crafting qualities and expertise of creativity. We started our website after numerous years in the area of craft, teaching, retail craft and owning a gift store. We decided to launch it to provide resources for teachers, therapists, and craft enthusiasts in the year 1999. Since then, the website has grown tremendously in terms of content and resource information.