Quilled Balloon Card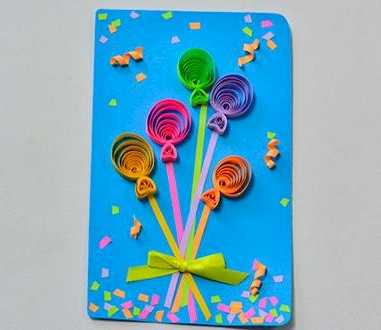 This Quilled Balloon Card is the perfect card for a birthday, get well message, graduation or any occasion where there is a reason to celebrate.  It is also a good entry level introduction to quilling for the beginner.  If you have never tried quilling here is your chance to make it happen.  Quilling takes a some patience but gives immediate satisfaction when completed.
Supplies
5mm Colorful Quilling Paper
Paper Quilling Rolling Pen
10mm Yellow Satin Ribbon
Tweezers
Glue
Scissors
Instructions
Step One: Making Balloons for your Quilled Balloon Card.
1st, Cut several pieces of colorful quilling paper (the colors are up to you), then roll them into loose scroll and stick the tails one by one.
2nd, Hold the scroll with tweezers to move the center hole aside; (this is how to make the balloon).
3rd, Repeat above procedures to make more colorful balloons, then stick the balloons on the card with glue and dry out.
Make colorful loose scroll patterns
Step 2: Add quilling heart patterns
1st, Cut several pieces of colorful quilling paper, and roll them into loose coil respectively.
2nd, Hold the coil with tweezers, and press the other ends to shape a heart pattern.
3rd, Repeat and make more quilling heart patterns.
4th, Stick the quilling heart patterns below the balloons one by one, keeping the color same with that of the balloon.
Add quilling heart patterns
Step 3: Add more ornaments for the balloons.
1st, Cut several pieces of colorful quilling paper of different lengths according to the balloons, then stick them on the card as balloon strings as shown;
2nd, Cut a piece of ribbon (here I chose yellow) and make an easy bow.
3rd, Stick the bow on the card as pictured.
4th, Cut enough paper fragments and dot on the card.
5th, Make other adornments and stick them on the card as well.
Other Images
Click on an image to open it in a new window
Contributor

Panda Hall Learning Center
Pandahall Learning Center is a large and free active online community on jewelry craft knowledge sharing. It collects thousands of jewelry making projects, techniques instructions about beading, wire wrapping, braiding etc.,as well as craft ideas and customer shows.