Purim Noisemaker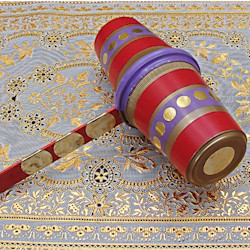 The Purim Noisemaker or grogger is a classic Purim prop used during the reading of the Megillat Esther (Book of Esther) to make noise every time the name of the evil Haman is mentioned. The reading takes about 1/2 hour, and during that time children who are old enough to come to the reading must sit quietly so that everyone can hear every single word of the story. So listening for Haman's name gives everyone a reason to pay attention!
Use this craft to talk to children about the different and interesting traditions found in our world
Supplies
Plastic cups, any size, clear works well too!
Electrical Tape (my favorite new crafting supply)
Beans to fill the cup
Gold stickers
A popsicle stick (you can make these without the handle too)
Hot glue gun or other tacky glue
Instructions
1.Fill one of the cups about 1/4 full with dried beans or anything else you have on hand that will make noise when shaken.
2.Attache the popsicle stick to one cup with hot glue, and then join two cups together with hot glue. My new hot glue gun is so hot it melted the cup the first go around, so use the hot glue sparingly.
3.Decorate the cups with electrical tape and stickers
4.Enjoy making lots of noise on Purim!
Contributor

CreativeJewishMom.com
Visit me at CreativeJewishMom.com. on the exciting journey of giving greater meaning to the everyday through creativity. This blog is my way of sharing with you the joys of crafting, decorating, cooking, and gardening. I love simple ideas, recycling and quick transformations.