Pumpkin Pops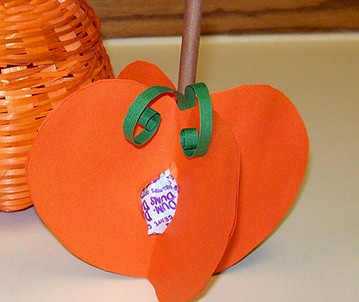 Turn these Pumpkin Pops into place cards for you Halloween or Thanksgiving table. It is a simple decoration that the kids can help to make which gives them a feeling of pride for their participation in the festivities.
Supplies
Orange  cardstock
Brown cardstock
Green cardstock
Scissors
White Glue
Pencil
Instructions
Using a pencil, draw a pumpkin shape on a piece of orange card stock.
Using scissors cut out the pumpkin shape.
Fold the pumpkin shape in half vertically and use scissors to even out the edges so that you have a symmetrical pumpkin shape.
Using a pencil, draw a semi-circle on the folded edge of your pumpkin shape. Use a Dum Dum to help you measure what size the semi-circle should be. Then, cut out with scissors.
Using your pumpkin shape with the semi-circle cut out as a template, create 3 additional pumpkins that look the same.
Attach pumpkin shapes together with semi-circles facing the inside of the pumpkin, creating a hole for the Dum Dum to sit in. Before attaching the 4th pumpkin shape, be sure to place the Dum Dum inside.
Use a small piece of brown cardstock to cover the Dum Dum stick, securing in place with glue. You can either make it look round or square - whatever your preference.
Finally, cut out thin "ribbons" of green card stock and roll up with your fingers to create a curly vine. Then attach with glue to the stem of the pumpkin. Ta-da! Your pumpkin is ready!
Contributor

Spangler Candy
Spangler Candy, located in Bryan Ohio,  has been making candy since 1906 and has recently started making crafts and recipes to share with all lovers of candy canes, Dum Dum Pops and other candy favorites. You can learn more about Spangler at http://www.spanglercandy.com.