Pumpkin In A Jar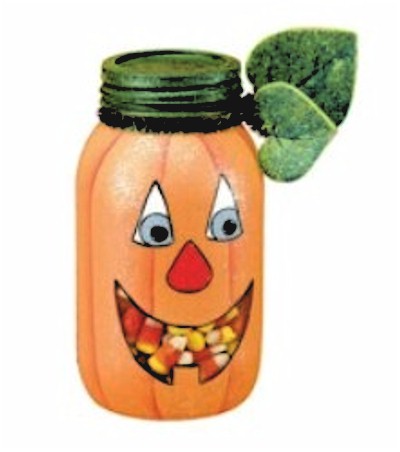 Make a mason jar into a Pumpkin In A Jar. In fact let the kids make a whole family of them. Encourage them to use their imagination and Create a variety of faces.
Supplies
Americana Paints
DAO1 – Snow (Titanium) White
DAO13 – Pumpkin
DAO42 – Baby Blue
DAO67 – Lamp (Ebony) Black
DA131 – Hauser Light Green
DA196 – Tangelo Orange
Brushes: BL1000-B – Liner #0
Craft Twinkles
DCT4 – Christmas Green
Americana Star Lite Varnish
DS32 – Star Lite Topcoat
Americana Spray Sealers
DAS13 – Americana Matte Spray
Multi-Purpose Sealer
DS17 – Multi-Purpose Sealer
#8 flat brush
#12 flat brush
Water container
Paper towels
Palette or plastic plate
Low-temp glue gun and glue sticks
Scissors or craft knife
Tracing and transfer paper
Stylus or pen
Self-adhesive paper (Contact)
Green chenille stem
Green craft foam
Instructions
Soak jar in warm, soapy water. Rinse and dry completely. Use scissors to cut out green foam leaf shapes.
Use craft knife or scissors to cut mouth shape from self-adhesive paper. Position and press shape onto jar. Basecoat jar and lid with Multi-Purpose Sealer.
Paint lid and neck of jar Hauser Light Green. Paint remainder of jar Pumpkin.
Trace and transfer patterns for eyes and nose, or use chalk pencil to draw shapes on jar.
Side load #12 flat brush with Tangelo Orange and float color in vertical stripes on jar. (Refer to photo for placement.)
Paint eyes Snow White with Baby Blue irises and Lamp Black pupils. Highlight with Snow White.
Paint nose Tangelo Orange.
Remove adhesive paper from mouth area.
Use liner brush and Lamp Black to outline shapes.
Brush Star Lite Topcoat over jar and Christmas Green Craft Twinkles over leaves and lid.
Mist jar and lid with Americana Matte Spray.
Twist chenille stem around jar top. Position and adhere foam leaves onto chenille stem ends.
Contributor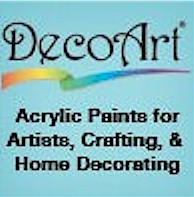 DecoArt®
DecoArt® has one of the widest selection of paints and finishes for arts, crafts, and home decorating. All DecoArt® products are non-toxic and user- and enviromentally-friendly. Visit the DecoArt® web site for free projects, how-to idea videos, tips and product info, and for the DecoArt® on-line store.
Supplies
Instructions
Contributor

Sudbudz
Want to have some creative family time? Print out our SudBudz® Masks and get crafty with the kiddos! More than just a typical Fizzy Bath Ball, SudPrize® is a first ever line of skin-loving and natural bath products that make bath time Fun for Kids and Easy for Moms. A Free companion App, SudBudz® engages your children into an immersive world of special and unique characters called SudBudz®.