Pumpkin Garland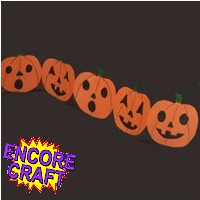 Here's a new take on the old favorite garland. Kids will enjoy creating happy, sad and scary pumpkin faces on their Pumpkin Garland.  They can make them to hang by the door or to decorate the Halloween party table.
Supplies
Orange construction pape
Markers
Scissors
Transparent tape
Black yarn
Instructions
Using an 8 1/2" by 11" sheet of orange construction paper, cut three strips measuring 2 3/4" by 10".
Fold each piece in half. Open the folded paper. Bring the two sides to meet at the center fold line. Crease the newly created folds. You should have four equal sections divided by the folded lines.
Unfold the paper and refold, making accordion folds - forward and back. Make a pumpkin template that will fit in the square formed by the folds. Include a stem.
Heavier paper for the pattern is helpful. Lay the pumpkin pattern on the folded paper, with the pumpkin's base on the edge and one side on the fold. Trace around it. Cut out.
You should have four pumpkins joined at their sides. If you failed in the joining there is always scotch tape. Repeat the process making as many pumpkins as you want, joining the sections of four with transparent tape. With magic markers color in the details of your pumpkins.
WHAT TO DO WITH THEM?? Use them as table decoration. or punch a hole in the stems and thread them on black yarn for hanging in the window, on the fireplace, over a doorway, around the chandelier. If you're planning to do this, be sure the stems are wide enough to accommodate the hole. Or, alternatively, tape the pumpkins to the yarn with invisible tape.
Contributor

Kabubble
With ten years of "Grand" parenting behind the team at Kabubble they've come up with lots of ideas on how to have lots of fun along the way and they have created treasured memories. This site shares those ideas with all grandparents and parents.