Pumpkin Blocks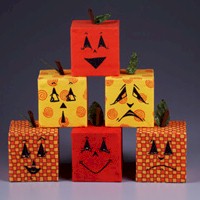 Hip-Hip-HOORAY! It's Halloween and these peppy Pumpkin Blocks are cheering on little ghouls and goblins: "Go for the chocolate, go for the chocolate " as they decorate your house for Halloween.
Supplies
6 3" STYROFOAM* Brand Foam Cubes
Acrylic paints: white; black
Matte-finish découpage medium
Fabric scraps: green; brown; 9-1/2" x 14" each (or 1/4 yd.) of three orange/yellow prints
Pencil
Ruler
Paintbrushes: disposable sponge; liner
Disposable palette
Water basin
Paper towels
Scissors
Transfer paper
Low-temp glue gun and glue sticks
Napkin appliqué glue
Optional: Double-sided iron-on adhesive. Iron.
Instructions
1. Cut four 3-1/2" squares and two 3" x 13" strips from each orange/yellow fabric. Center and glue squares to top and bottom of each cube. Clip corners diagonally, almost to foam. Fold and glue excess fabric down cube sides.
2. Beginning and ending at center back, glue fabric strips around cube sides. Let dry.
3. Follow manufacturer's instructions to apply one coat matte medium to front of each cube, sealing fabric for painting. Let dry.
4. Use pencil to poke small hole in center top of each pumpkin.
5. Cut six 1-1/2" squares from brown fabric. Tightly roll each square into a stem and glue 1/2" deep into holes in tops of pumpkins. Let dry. Snip off top of each stem at 45° angle.
6. Cut green fabric in half. Glue, or follow adhesive manufacturer's instructions to fuse, two pieces of fabric together, wrong sides facing. Let dry/cool.
7. Cut six leaves from fused fabric. Pinch straight end of each leaf together. Use scissors point to slide leaf end into stem hole; spot glue to secure.
8. Transfer face patterns provided or create your own. Paint features black. Highlight eyes with white. Let dry. Note: For better control, use opaque markers to decorate pumpkins.
Patterns, Templates and Printables
Click on a pattern to open it in a new window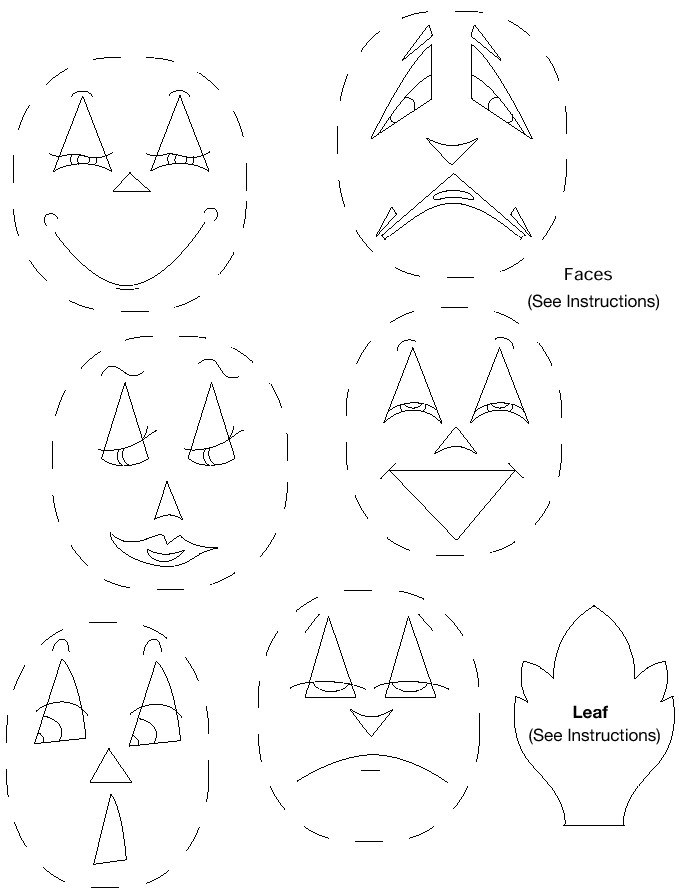 Contributor

Styrofoam Brand Products
STYROFOAM™ brand from Dow is one of the most trusted and widely known brand names in the craft industry. From Christmas ornaments to wedding topiaries, they have helped shape your crafting memories for 60 years. Today, their high-performance foams are helping you make tomorrow's memories.