Printable Butterfly Mother's Day Card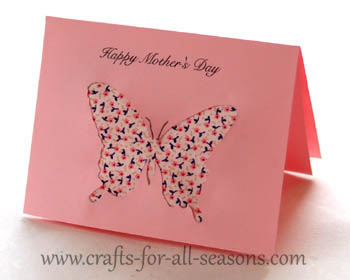 Make this Printable Butterfly Mother's Day Card in Mom's favorite colors. It's one she will put away to treasure every year and will bring smiles to her face every time she pulls it out.  Because this card takes an exacto knife to execute, we've tagged it for teens.
Supplies
Computer printer with black ink
Two pieces of 8 1/2 x 11 inch card stock in coordinating colors
Scissors and excto knife
White glue
Fancy edge scrapbooking scissors
Small piece of scrap fabric, in colors that coordinate with the card stock colors.
Instructions
Print out the Butterfly template on your card stock.
Next, place the card on top of a cutting mat or magazine to protect your work surface. Cut out the design using an exacto knife. Take your time, and for best results try to cut slightly outside of the black outline so you won't see any of the outline when you are finished.
Fold the card in half lengthwise, as shown. On the back side of the design, apply glue all along the edges of the cut out design, then place your small piece of fabric down on top of this, and allow to dry. Add some glue to the edges of the paper to secure the folded card.
Print out the verse on a contrasting piece of card stock.
You will need to cut a rectangle from the coordinating color of card stock, to cover the fabric on the inside of the card. Using the card stock that you printed the verse out on, cut a 4 3/4" x 5 1/2 " square from an area that does not contain the rectangle with the verse text. Glue this over the fabric to cover (no photo is shown for this step).
Cut out the rectangle with the verse on it with fancy edge scissors. Stay just inside the rectangle when cutting so you will not see the outline. Glue this inside of the card.
Patterns, Templates and Printables
Click on a pattern to open it in a new window