Potted Alligator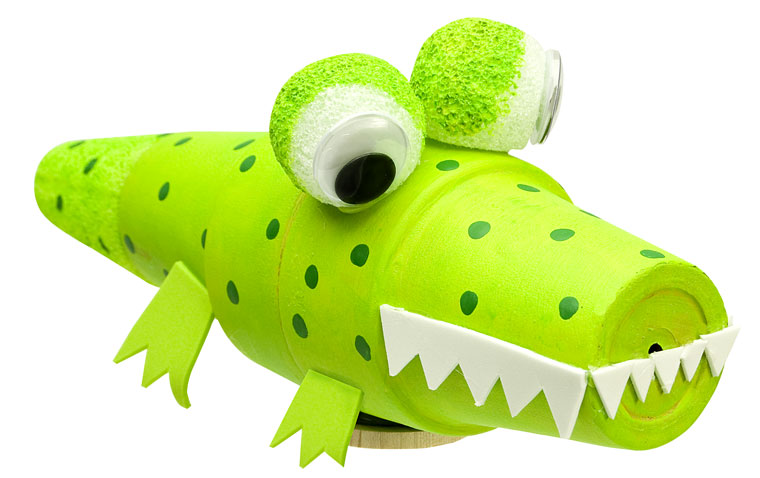 This whimsical  Potted Alligator will steal the hearts of kids of all ages. The children will remember their favorite alligator stories every time they spot his silly grin.
Books you might want to read with this craft:
Zack's Alligator by Shirley Mozelle and James Watts
All About Alligators with Photos and Fun Facts by Tiara Jackson
Snap! A Book About Alligators and Crocodiles by Melvin Berger and Gilda Berger
Supplies
Americana Neons: Thermal Green
Americana Acrylics: Festive Green, Citron Green
Two 2 1/2" rose pots
Green foam sheet
1 1/2" Styrofoam cone tip
2 Wiggle eyes
Two 1 1/2" Styrofoam balls
Tracing and transfer paper
1" wood disk, optional
Water container
Palette or plastic plates
Paper towels
Scissors
Pen or stylus
Low-temp hot glue gun and glue sticks
Permanent fine point black marker
Instructions
NOTE: Let dry between steps.'
Position and glue pots top to top. (Refer to photo for placement.)
Position and glue Styrofoam cone top to one end of pots for tail.
Paint body Citron Green.
Paint over Citron Green with Thermal Green.
Use brush handle end and Festive Green to dot over body.
Press Styrofoam balls on craft surface to flatten one side. Rotate and flatten adjoining side. Position and glue wiggle eye to one flat side of ball. Position other flat side onto body and adhere. Repeat for second eye. Paint eyelids Citron Green.
Trace and transfer pattern for feet onto green foam and teeth on white foam. Use scissors to cut out. Position and adhere to body.
Optional: Glue wood disk, button, or other flat object on bottom to prevent rolling.
Contributor
FaveCrafts.com
FaveCrafts is owned by Prime Publishing LLC, an Internet Media Company that operates web site communities, e-mail newsletters and e-commerce stores in niche areas such as crafting, home décor, wellness, and cooking. See their craft projects at https://www.favecrafts.com/