Plant Frogs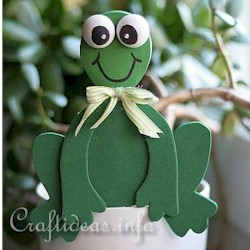 Repurpose a wooden spoon into this delightful frog who will put a smile on everyone's face.
Supplies
Wooden spoon about 4.5 cm or 1 1/2 inch width across
Dark green, white and black acrylic paint
2 half wooden beads or round discs 2 cm wide (approximately 3/4 inches)
Dark green fun foam
Black magic marker
Ribbon to create a bow
Tacky glue (or if parents are helping, they could assist with hot glue which is much faster to work with)
Cereal box
Pencil
Scissors
Instructions
1. Paint the two wooden half beads white. Once dry, paint again if necessary.

2. Paint a black circle on each bead. Once dry, dot a white dot in each black area. You can do this by dipping the backside of your paintbrush in white paint and using it to do the dot.

3. Paint the wooden spoon green and set it aside to dry.

4. While the spoon is drying, print out the Frog Template to 13 cm or a 4 3/4 inch size (measured from outer toe to outer toe). That should approximately be the proper size. If your spoon is larger or smaller then you may need to adjust the size of the pattern.

5. Glue the pattern page then to the back of a cereal box and cut out. Now you have a permanent and stable template that you can use to trace around.

6. Trace the template onto the fun foam. Make sure to trace one arm in reverse. Now cut out the body and the two arms. Glue the two arms to the body.

7. Once your spoon is dry, you can glue the body to the spoon, where the stick part of the spoon begins.

8. Have a parent help to create a bow and then glue this onto the frog.

9. Glue the eyes onto the frog's face. Then draw a cute smiling mouth to make him a happy frog.

10. Insert the stick part of the spoon into your pot and the frog can begin to fulfill his duties.
This craft is reprinted courtesy of Craftideas.info.
Contributor

Craftideas.info
On Craftideas.info you will find hundreds of free craft projects for all seasons of the year, free craft templates for the projects and over one hundred step-by-step picture tutorials. New crafts, patterns and tutorials are being added regularily!