Pioneer Covered Wagon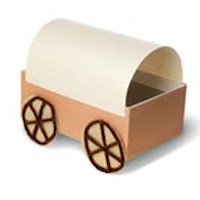 Westward Ho!. Time to introduce the kids to some high adventure with their own Pioneer Covered Wagon. The fun begins with creating this western craft and continues on for many hours with imaginary western adventures.
Supplies
Cardboard
Brown pipe cleaners
Brown and white construction paper
Empty shoe box
Elmer's Glue-All
Instructions
Cut the brown construction paper to fit on the sides of the shoebox.
Use Elmer's Glue-All to attach the brown construction paper to the shoebox
Use Elmer's Glue-All to attach the white construction paper to the top of the box (wagon)
Cut 4 identical circles out of the cardboard
Use pipe cleaners to create the wagon wheels and use Elmer's Glue Sticks to attach to the cut out circles. (Put aside to dry)
Use Elmer's Glue-All to attach the wheels to the wagon
Books you might like to read with this craft:
If You Traveled West in a Covered Wagon by Eileen Levine
Covered Wagons, Bumpy Trails  by Verla Kay and S. D. Schindler
Contributor

Elmers