Penguin Family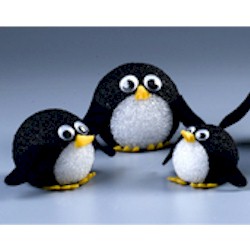 Say 'hello' to the perkiest penguin pack north of The South Pole. There is a papa Penguin too, but he didn't fit into the picture frame.
Supplies
STYROFOAM™ Brand Foam Balls: 3"; 2-1/2"; 2"; 1-1/2"
Black acrylic paint
Felt: black; yellow
Wiggle eyes, two each: 15mm; 10mm; 9mm; 8mm
Serrated knife or plastic knife
Candle stub or paraffin
Pencil
Ruler
Wooden skewer
Stiff paintbrush
Disposable palette
Water basin
Paper towels
Scissors
Thick, white craft glue
Instructions
Note: Follow same directions for each penguin, using
corresponding pattern pieces and foam ball sizes; largest is D
and smallest is A.

1. Wax serrated knife with candle stub or paraffin. Cut thin
slice from bottom of foam ball so it will sit flat. (Note: If
crafting with children, substitute a plastic knife for the serrated knife.)
2. Lightly draw circle on "tummy" area of ball with pencil.
Push skewer into circle. Holding ball by skewer, paint area outside
circle black. Place skewer in heavy glass or jar while paint dries.
3. Cut wing and tail patterns from black felt as indicated;
cut beak and feet from yellow felt.
4. Fold beak in half and glue sides together along fold; let
dry. Glue beak and wiggle eyes to face. Refer to photo to glue
wings and feet to body. Glue tail to bottom back of body to
help penguin stand.
This craft was designed by Kathleen George and is reprinted courtesy of Styrofoam Brand Products.
Patterns, Templates and Printables
Click on a pattern to open it in a new window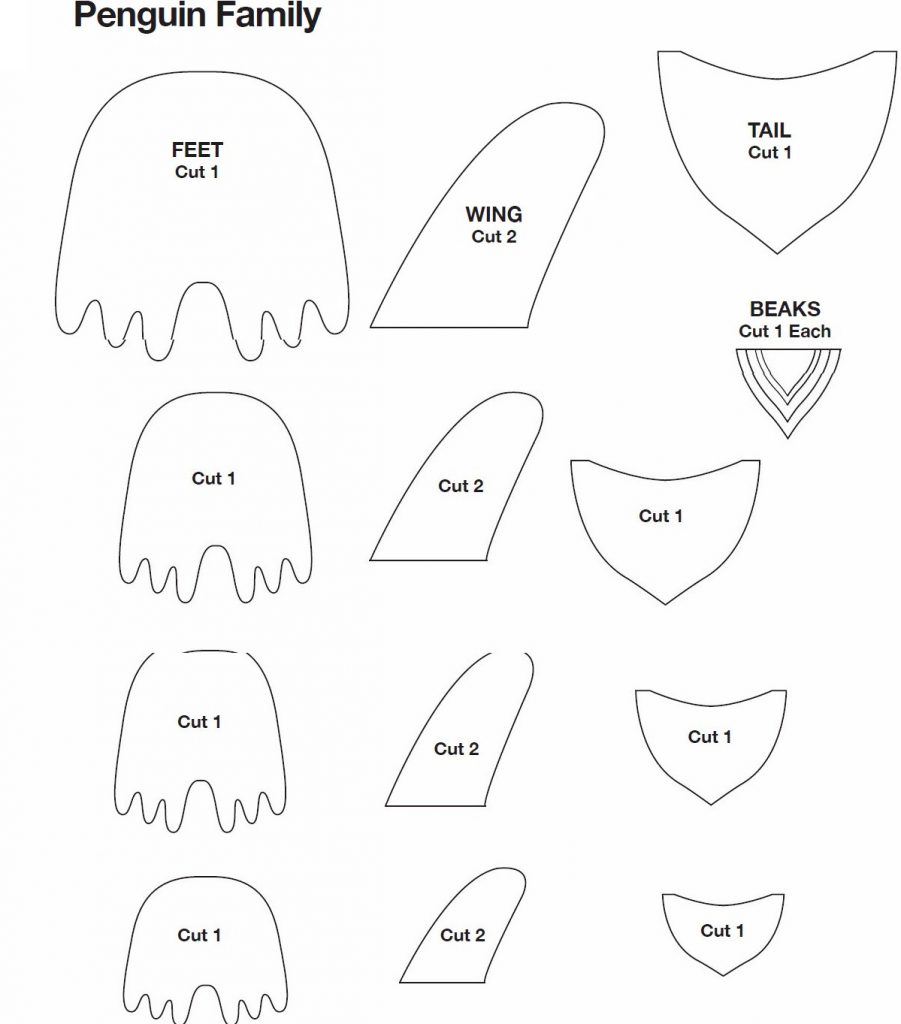 Contributor

Styrofoam Brand Products
STYROFOAM™ brand from Dow is one of the most trusted and widely known brand names in the craft industry. From Christmas ornaments to wedding topiaries, they have helped shape your crafting memories for 60 years. Today, their high-performance foams are helping you make tomorrow's memories.