Patriotic Star Necklace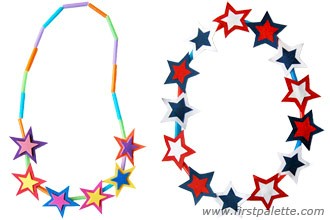 Some drinking straws and a few stars and basic materials are all you need to make this cute Patriotic Star Necklace to show your love of our country and the service men and women who help to keep us safe.
Supplies
Drinking straws
Paper or craft foam stars
Elastic string
White glue
Scissors
Hole punch
Button (optional)
Instructions
1. For this necklace, we need 2 sizes of paper or craft foam stars. You may use pre-cut craft foam stars or cut out your own paper/craft foam stars.
For this tutorial we are going to make our own paper stars and we will show you how to make multiple stars all at once using a star pattern. First, print out the Fold & Cut Stars (1¼- and 2-inch Stars) on different colors of cardstock.
*If you're using pre-cut stars, jump to Step 10.
2. I've printed out mine on red, blue and white card stock to make a 4th of July necklace but you can always print out yours in other colors and in as many colors as you like.
3.You will notice that the print-out has 4 columns of stars (2 large ones and 2 smaller ones). Cut out each of the columns.
4. Take one of the columns and fold it along the horizontal line at the bottom of the star.
5. Continue folding the paper accordion-style (back and forth folding) until you have folded the entire length.
6. The result should be something like this. The star should be on the top fold.
7. While keeping the paper folded, cut out along the outline of the star.
8. Each column yields 5 for the big stars and 7 for the smaller stars.
9. Fold and cut out the rest of the print-outs to come up with multi-colored stars.
10. Punch a pair of holes at the center of each big star.
11. Cut out drinking straws into 1-inch long pieces.
12. Cut an elastic string to a length of at least 30 inches. Make a knot about 2-3 inches from one end. Make the knot large enough to stop the drinking straw pieces or stars from slipping through. Another option for preventing the stars and drinking straws from going through the knot is to use a button. String the button all the way through until it touches the knot.
13. First, string a drinking straw. Next, a star, stringing through one hole and going out the other hole.
14. String the drinking straws and stars alternately until you have covered the entire length of the string.
*A 30-inch long string will need about 15 stars and 15 drinking straw pieces.
15. Tie the ends of the string together, right below the button. Trim off the excess length of string.
16. Position the stars so that all of them are in front while the drinking straws are at the back.
17. Glue a smaller star at the center of each big star.
18. Once the glue dries, you may try on your starry necklace!
Patterns, Templates and Printables
Click on a pattern to open it in a new window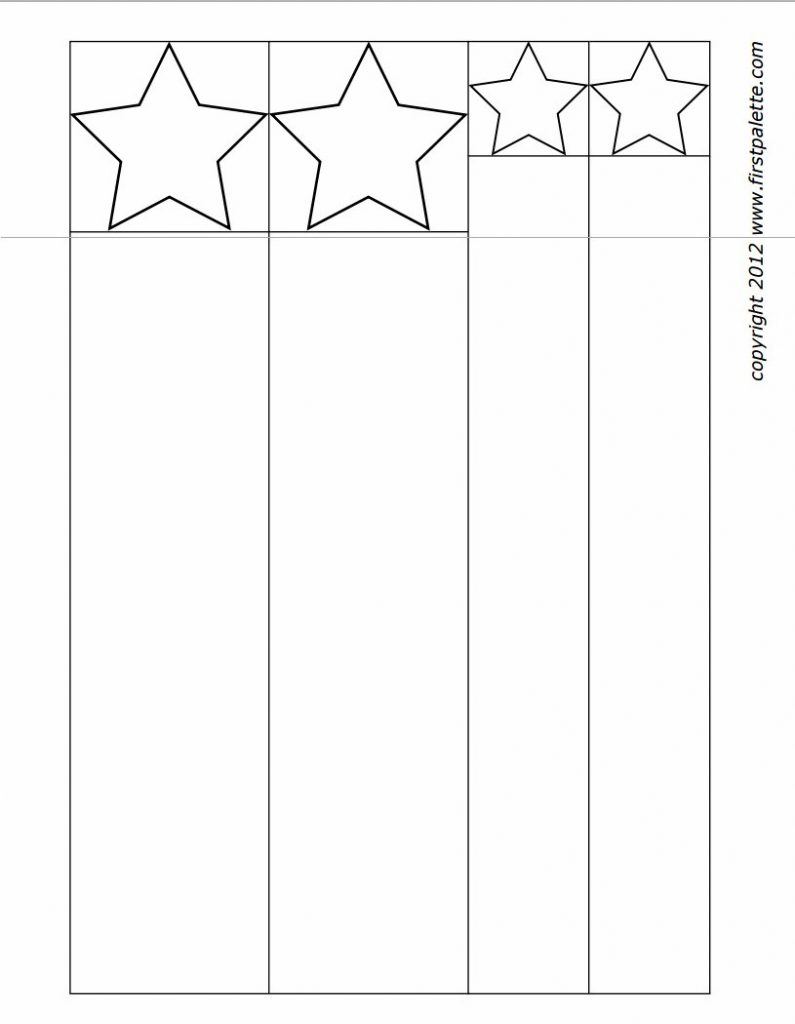 Other Images
Click on an image to open it in a new window
Contributor

FirstPalette.com
A free resource for fun and educational kids' crafts, the site features a step-by-step guide for each craft project and includes printable templates, art recipes, and environment-friendly tips for crafting.