Paper Plate Thank You Turkey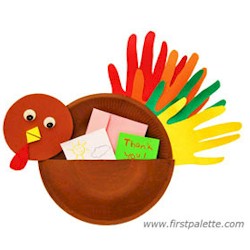 Thanksgiving is a time for giving thanks. Make a paper plate turkey with a pouch where you can put all your "thank you" notes for your family members or classmates on Thanksgiving.
Supplies
Two paper plates
Construction paper
Poster paint
Paint brush
Scissors
White glue
Pencil
Wiggle eyes
Stapler (optional)
Craft foam (optional)
Instructions
1.Obtain two identical-sized paper plates for the turkey's body.

2. Cut one paper plate in half.

3. Paint the top surface of the whole paper plate and the bottom surface of
the half paper plate with brown poster paint. 

4. Once the paint dries, glue or staple the two plates along the edges.

5. Notice that the joined paper plates has a pouch or pocket. 
This project is reprinted courtesy of FirstPalette.com. 

6. Make the turkey's head by cutting out a circle from brown construction paper or craft foam. Glue this along the upper edge of the paper plate body.

7. Cut out a pair of small yellow triangles for the beak and a red teardrop shape for the wattle from construction paper or craft foam. Glue these onto the turkey's head. Add a pair of wiggle eyes to complete the face.

8. Trace your hand on yellow, orange, red and green construction paper. Cut out the handprints.

9. Make the turkey's tail by gluing the handprints in a fan-like arrangement behind the paper plate body.

10. On the days leading up to Thanksgiving, think about the things and the people that you are thankful for in your life. Write them down or draw them. You may even make "thank you" notes for your family members or classmates. Put all of these inside the turkey's pouch and share them with your family or class on Thanksgiving.
More Ideas
  Add a strap by taping or gluing (use glue gun) the ends of a ribbon or string at the back of the paper plate body. Hang your Thank You Turkey on the wall or tote it along with you to a Thanksgiving celebration.
Contributor

FirstPalette.com
A free resource for fun and educational kids' crafts, the site features a step-by-step guide for each craft project and includes printable templates, art recipes, and environment-friendly tips for crafting.